How to Become an Actuary
Does the statistics and risk calculations of an actuary's occupation excite you? Read on to learn how to become an actuary!
An actuary is a specialist in actuarial science — what is actuarial science? This particular science assesses money-related risks through probability, statistics, and math for business, financial, and insurance matters.  Above all, actuaries are problem solvers. They help individuals and businesses prepare financially for unexpected events like loss of property or market drops. They also help you strategize on how to invest resources for retirement or other financial planning and help assess risk for insurance purposes. 
If you have an analytical mind, like math, statistics, and probability, and think you'd enjoy working in a corporate setting, you might like the career path of an actuary. They also have great salaries and benefits as well, with relatively stable job security. 
Here we'll cover everything you need to know about how to become an actuary, including where you can get an actuary degree, steps to becoming an actuary, actuary requirements, actuary salaries, and more.
| | |
| --- | --- |
| Career Title | Actuary |
| Degree Requirements | Bachelor's degree |
| Job Growth | 24% |
| Experience required | 2 years |
| Salary (2021) | $113,300 |
| How long to become an Actuary | 7-8  years |
| Required Skills | Communication, Analytical skills, Math skills, Interpersonal skills |
| Costs | $225 for the first two exams; between $325 to $1,125 for each of the remaining 8 exams |
What does an Actuary do ?
Actuaries analyze data to estimate the probability and likely cost to the company of an event such as death, sickness, injury, disability, or loss of property. Actuaries also address financial matters, such as how a company should invest resources to maximize return on investments, or how an individual should invest in order to attain a certain retirement income level.
Analyses the probability of an event happening in future.

Outlining better approaches to lessen the probability of unfortunate occasions.

Diminishing the effect of unwanted events.

They outline a solution that benefits the interest of every party.

They research and create strategies.

Reserve Analysis of Funds.

They periodically review the rates of insurance premiums.

They price products according to the market trend.
---
Steps for becoming an Actuary
1
Get A Bachelor's Degree
You don't have to take a specific actuarial degree to become an actuary. Instead, students can take a variety of courses of study in their undergraduate careers. Related fields include economics, math, finance, statistics, or business. Here are some course subjects and skills you should aim to cover in your bachelor's degree if you want to become an actuary:
Statistics:
Forecasting methods
R programming language
Predictive analysis
Economics:
Supply and Demand
Fiscal Policy
International Trade and global economics
Finance:
Net Present Value
Valuing Riskless Cash flows
Market Efficiency
Some schools, however, offer degrees where you can take an actuary major, usually known as a Bachelor of Science in Actuarial Sciences. These degrees are quite specific and can help you narrow in on your career; however, it's not one of the essential steps to becoming an actuary. You might also want to take a more broad undergraduate program to keep your options open, should you decide the career of an actuary isn't for you. 
If your bachelor's degree program doesn't include calculus, algebra, computer science, or statistics courses, we strongly recommend you take them as electives. This extra knowledge will be super helpful when you write your actuarial exams and move forward in your career.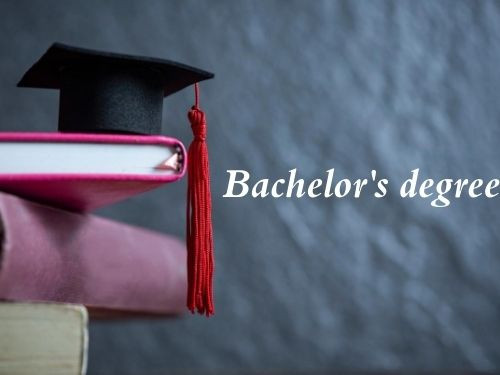 After you finish up your degree, you'll need to take 2 exams offered by the Society of Actuaries. First, the Probability exam, and then the financial mathematics exam. The order in which you take the two exams isn't relevant, but these are only 2 of the 10 exams you'll need to take to grow your career as an actuary. 
Test prep is a serious endeavor for prospective actuaries and takes anywhere between 3-6 months. Check out our articles about study tips and time management for college students to help you stay on track with your study schedule!
3
Get Familiar With Computers And Excel
Hopefully, your bachelor's degree helped you get familiar with Excel and computer programming. If it didn't, we recommend you take additional courses to help you hone the technical skills needed to get an entry-level job or internship as an actuary. 
Some common coding languages actuaries use include Python, VBA, and SAS.
4
Apply For An Internship
Start looking for an actuarial internship while you're still studying for your bachelor's degree. You can either look for part-time opportunities while you're in school or full-time summer student opportunities during your summer breaks. To learn how to become an actuary after college, an internship is a great first step.
Unfortunately, it's pretty hard to score an actuarial internship while you're still in school. Don't let that deter you though. Try your best to obtain an internship while you're in school or look for volunteer opportunities. Worst case, you can find an internship or skip to an entry-level job after you graduate.
5
Apply For An Entry-Level Job In The Actuarial Field
Hopefully, you have an internship, bachelor's degree, and technical skills under your belt to help you land your first job in the actuarial industry! Your first job will most likely be as an actuarial assistant. Once you start working, take every opportunity you can to ask questions, learn new things, and network with other actuarial professionals. 
6
Get An Associateship Certification
Remember all the exams we mentioned earlier? You've completed two, but you'll need to complete five more to obtain an associateship. This will be your first step into becoming a certified actuary! There are two associateships you can choose from:
Other actuary requirements to obtain these certifications might include completing online courses, in-person training, and other actuary credits.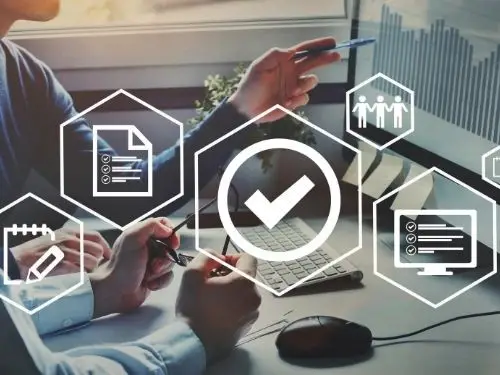 7
Obtain A Fellowship Certification
Your fellowship certification is the last big certification in your actuary career. To obtain a fellowship, you'll need to complete the remaining three exams from the SOA, to finish 10 in total. 
You can do this part-time while you still work, as completing this stage often requires another 2-4 years. At this stage, your employer might support you financially in obtaining your fellowship. 
After completing the exams and requirements, you'll get one of these two fellowship designations:
FSA (Fellow of the Society of Actuaries)
FCAS (Fellow of the Casualty Actuarial Society)
You'll need to contribute membership fees to maintain your fellowship. At this stage of your career though, it's smooth sailing. You won't have to balance full-time work with stressful exams.
8
Move Into Management (If You Want)
Now you might enjoy maintaining your career as an actuary with a fellowship designation. But if you would like to take your career to the next level (and paygrade) you might consider working towards a management role. 
In a management role, your day-to-day will focus less on the technical tasks and more on the high-level business strategy and planning in the actuarial field.
9
Pursue Further Education
You might consider pursuing a master's of actuarial science or Doctorate of Actuarial science later on in your career. This higher education can help you specialize in a certain area of actuarial science and help you conduct more specific consulting in your work, often resulting in higher pay. Here are some course areas you can focus on with a master's or doctorate.
---
Actuary Degree Levels
Bachelors
Masters
Insurance
insurance regulation, insurance marketing and distribution, risk control, and premium auditing
Mathematical Finance
price-yield relationship, estimate volatility
Doctorate
Microinsurance
Package design, pricing, and analysis, principles of risk and insurance, governance structure
Behavioral Economics
heuristics and biases, risk preferences
Predictive Modeling
logistic regression, time-series analyses, decision trees
---
Actuary Admissions Requirements
Actuaries use probability, statistics, and math to analyze data and forecast risk and costs for individuals and companies should certain events take place, like market drops, loss of property or death. They also address financial matters, such as how a company should invest resources to maximize return on investments, or how an individual should invest over the years to obtain a retirement sum they're happy with. 
Above all, actuaries are problem solvers. Here are some more specific duties of an actuary:
Compile various data and statistics for analysis
Design, analyze, and test investment plans and strategies with trial and error to find courses of action with minimal risk and maximal return
Forecast probability and costs for potential future events
Communicate data analysis and findings in a coherent way to various stakeholders
---
Essential Skills for an Actuary
You can advance in your career as an actuary not only with the education you obtain but with the skills you develop over time. Your skills will set you apart from other actuaries with the same training. 
Here are some essential skills for an actuary:  
Analytical skills: Analytical thinking is helpful for actuaries to analyze the data, interpret the results with complex trends, and identify patterns of data. Logical and analytical thinking allows them to consider all factors and how they influence events.
Communication skills: Actuaries are faced with various technical concepts and data that require explaining. Communication skills are vital to effectively report, document, and explain an actuary's findings to a client, manager, colleague, or other stakeholders. 
Computer skills: Computer knowledge is key in this profession. Learning programming languages, developing spreadsheets, organizing databases, and using statistical tools all require ample computer skills for an actuary's career.
Interpersonal skills: Interpersonal skills such as leadership, confidence, and others are gained with time and experience. Being a team player, taking ownership and being accountable for results, and channeling strong political acuity to deal with executives and clients are all great ways to advance an actuary's career.
Math skills: Actuaries must be well versed in mathematics and related concepts such as principles of calculus, statistics, and probability. All of this helps actuaries effectively calculate the risks demanded by their clients and employers.
Which Schools Should I Attend for Actuarial Science?
The Society of Actuaries has a great list of universities and colleges with actuarial courses that they recommend you consider attending to gain an education in actuarial science. Some notable examples on the list include Colorado State University, Iowa State University, Purdue University, and Texas A&M University. 
Many actuaries study while working, especially for their master's and doctorate degrees. For those scenarios, online colleges with actuarial programs might be of interest to you. 
 For 2022, these are the best colleges with specific programs in actuarial science:
How to Prepare for Actuarial Certification Exams
As mentioned, your career path to a certified actuary will be riddled with actuarial exams. To study for those exams, you might consider using style guides and practice test books, all of which you can find online with a quick Google search. 
Actuarial Exam Prep Resources:
AnalystPrep Actuary Exam Study Guide
ACTEX Study Materials
The Infinite Actuary Review
Actuary Exam Tutor SOA Exam Prep
There are even programs where you can hire an actuary coach to help you study for the professional exams with one-on-one tutoring.
Actuary Salary
The average salary for an entry-level job in actuarial science is $72,700. Salaries increase dramatically as you gain more certifications. 
Certified actuaries with associateships or fellows make, on average, over $100,000 per year. Specifically, an actuarial analyst's median salary is $113,300. 
And, if you're at the top of your industry, meaning you have all your certifications, experience, and maybe a master's or doctorate under your belt, you could earn closer to $475,000. The top 10% of actuaries make a whopping $740,000 a year. 
Job Growth
Experts predict that actuary employment is expected to increase 24% from 2020 to 2030. With 2,400 actuary job openings each year, we consider actuary to be a relatively stable job. 
The career has lots of opportunities for growth as well, with salaries climbing to the hundreds of thousands the more experience, education, and certification you have. 
Job Concentrations and Career Fields for Actuaries
The certifications and education you complete open many doors for budding actuaries. They are consultants, analysts, managers, And with the rise of technology, career opportunities are becoming more and more plentiful for actuaries. Here are some common career fields for actuaries:
Finance and insurance
Professional, scientific, and technical services
Management of companies and enterprises
Enterprise risk management
Self-employment
Government
Technology is changing the average career landscape for actuaries. Some increasingly popular yet nontraditional roles for actuaries are starting to include:
Risk management for emerging technology, like AI
Sales technique analytics by geographical location
Data analytics for customer habits
Predictive analytics for customer behavior, marketing, decision-making, underwriting, and claims processing
Pros and Cons in Being an Actuary
Like all jobs, the career path of an actuary has pros and cons. Consider these factors before deciding to jump into an actuarial career:
Pros and Cons of Being an Actuary

Stable job and lucrative income

Demand for meticulousness and little room for error

Multi-disciplinary career; opens doors in many fields, like accounting, marketing, economics, tech, and more

Heavy focus on computers over people

Great job growth

Little work-life balance while obtaining certification

Meaningful impact to individuals and businesses

 
Conclusion
When thinking about how to be an actuary, many people underestimate the level of commitment needed to make it all the way to a fellowship. Understand that the path to becoming a fully certified actuary is filled with long hours and high demands from both your work and education. 

However, actuaries usually feel a strong sense of meaning in their roles, as they help many people make decisions to support their futures. If you're interested in an actuarial career, check out our articles about business degrees, accounting degrees, and economics degrees.