About California Miramar University (CMU)
Type Control of Institution - Public/Private
Private
For-Profit
4 Years
Student Population Number of Students attending College
236
Accreditation Accreditation is the process by which the quality of learning at various educational institutions are evaluated. Read More.
DEAC
Religious Affiliation Indicates religious affiliation (denomination) for private not-for-profit institutions that are religiously affiliated.
Not applicable
On Campus Housing Does the institution provide on-campus housing?
No
California Miramar University (CMU) is a for-profit institution which was established in 2005. The university ensures the students meet their educational/professional goals by providing global quality education, well-qualified faculty, technology-driven delivery modality, and enriched learning environment. Later the university acquired the assets of Pacific Western University.
University academic year is split into 3 semesters Fall, Spring, and Summer.

Students who wish to opt for distance education programs have an option of joining the program at any time they want throughout the year.
The student-faculty ratio at the university is 13:1.

California Miramar is accredited by the Distance Education and Training Council (DETC), later CMU was awarded the second accreditation from the Accrediting Council for Independent Colleges and Schools (ACICS).
---
Reviews
The review of the university state the following.
Students are satisfied with online MBA degree and conveyed with everything.

The university offers quality training, with an extraordinary educational cost rate.

The university specializes in Business Management and Leadership Degrees, which permits the staff, workforce, and students to truly center around these "in demand" fields in the work environment.

With courses like Conflict Resolution, Change Management, Entrepreneurship, Negotiation, and several leadership courses. The students feel as though they are prepared to deal with pretty much anything that comes into the workforce.
Location & Contact
Address
3550 Camino Del Rio North Suite 208
Request Info
Admissions
Application Deadline Deadline for application submissions. Please contact the school for more details.
N/A
Acceptance Rate Percentage of applicants who are accepted in an Institution.
22%
SAT/ACT
Neither required nor recommended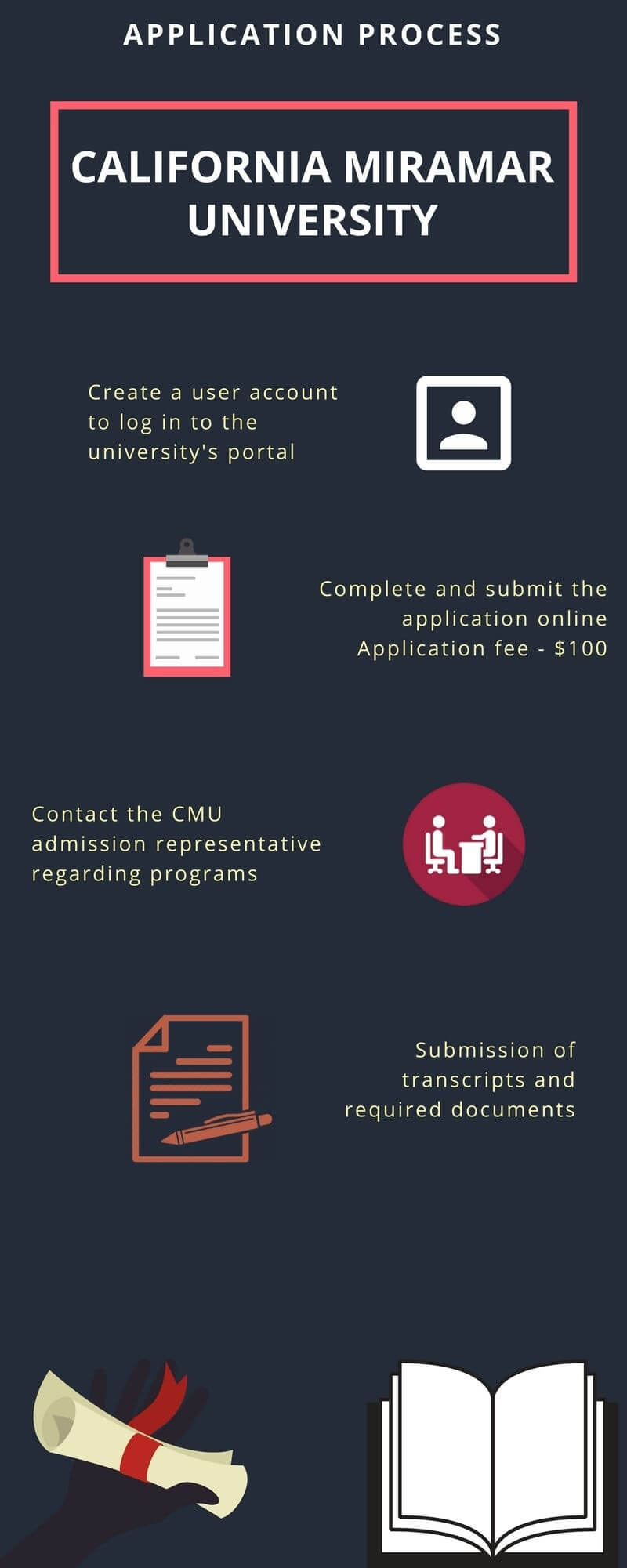 Admissions to California Miramar University
Admission Requirements for Undergraduate Programs
Completed application.

High school graduation or GED with a GPA of 2.0 or higher from an accredited institution.

Official academic transcripts from all institutions attended.

---
Admission Requirements for Graduate Programs
Completed application.

Completion of bachelor's degree from an accredited institution

Submission of official transcripts before enrollment.
Note
Candidates whose primary language is not English must submit English Proficiency scores.


TOEFL Paper- based - 550

TOEFL internet-based - 71

IELTS - 71

PTE - 50
---
Technology Requirements
Screen Resolution - Minimum resolution of 1024 x 968.

Audio - Sound card, microphone or headphones and speakers.

Web Camera - Minimum 640 x 480 resolution.

Operating System - Windows 7 or higher, Mac OS X 10.7 Lion or better, Linux.

A 1GHz processor or higher.

Recommended Browsers - Chrome 48.0 or higher, Internet Explorer 9 or higher, Firefox 44.0 or higher, Microsoft Edge 38 or higher, Opera 35.0 or higher, Safari 9.0 or higher,

Video Conferencing

Zoom launcher application

Adobe Flash Player may be required

Recommended additional plug-ins and file viewers

Microsoft Office

Open Office (open source/free)

Libre office (open source/free)

Adobe PDF reader
Annual Cost to Attend
Net Price Cost of attendance minus any grants and scholarships received.
$8,533
Average Annual Cost
$8,772
Books And Supplies
$1,791
Academics
Highest Degree Offered The highest degree offered by the Institution.
Doctor's degree
Student:Faculty Ratio
10:1
Full-Time Retention Rate Percent of the that re-enrolled at the institution as either full- or part-time in the current year.
60%
Part-Time Retention Rate Percent of the that re-enrolled at the institution as either full- or part-time in the current year.
N/A
Academic Calendar
Other academic year
Research Funding per Student
N/A
Majors
Human Resources Management and Serv...
3 Graduates
Business Administration, Management...
1 Graduates
Criminal Justice and Corrections
1 Graduates
Homeland Security
1 Graduates
Student Body
Undergraduate Students
68
Socio-Economic Diversity Percent of full-time, first-time students receiving an income-based Federal Pell Grant intended for low-income students.
29%
Race/Ethnicity
0 American Indian/Alaska native
1% Native Hawaiians/Pacific islander
Economic Diversity
36% percentage of students who recieved an income-based Federal Pell Grant intended for low-income students.
Median Household Income
N/A
Campus Life
Housing
The institution does not provide on-campus housing facilities for students.
On Campus Housing Available
No
Freshmen Required to Live on Campus
No
Freshmen Live on Campus
N/A
Undergrads in College Housing
N/A
Campus Food
The institution does not provide any meal plan options.
Average Meal Plan Available
N/A
Athletes
Division Sports Nickname
N/A
Varsity Athletics Association
N/A
Varsity Athletics Conference Primary
N/A
Total Male Athletes
N/A
Total Female Athletes
N/A
Intramural Sports
N/A
Sports Club
N/A
Campus Safety
24-Hour Security Patrol
NA
24-Hour Escort Safety rides
NA
After Graduation
Median Earnings 6 Years After Graduation
N/A
Median Earnings 10 Years After Graduation
N/A
Typical Monthly Loan Payment The median monthly loan payment for student borrowers who completed, if it were repaid over 10 years at a 4.53% interest rate.
N/A - N/A
Financial Aid
Students Receiving Gift Aid Percent of undergraduate students awarded federal gift aid.
Average Aid Per Year
$6,348
Students Receiving Federal Grants
Average Aid Per Year
$6,348
Average Grant & Scholarship by Family Income
Aid awarded based on the family income.
Financial Assistance is available for the students in the form of scholarships, grants, and loans and work-study.
Students looking for financial aid facilities can fill the FAFSA form. California Miramar University (CMU) federal school code is 041897.
The university helps the students with the following financial aid programs

Federal Aid is provided which includes Federal Pell Grant, Federal Supplemental Educational Opportunity Grants (FSEOG), William D. Ford Federal Direct Loan (Direct Loan) Program, Direct Subsidized Loan, Direct Unsubsidized Loan, Direct PLUS Loan

Institutional Aid Doyle Grant Scholarship is also awarded for students.

Military Aid such as Post 9/11 GI Bill, Tuition Assistance Program is awarded.