About DeVry University
Type Control of Institution - Public/Private
Private
For-Profit
4 Years
Student Population Number of Students attending College
17,364
Website
https://www.devry.edu
Accreditation Accreditation is the process by which the quality of learning at various educational institutions are evaluated. Read More.
HLC
Religious Affiliation Indicates religious affiliation (denomination) for private not-for-profit institutions that are religiously affiliated.
Not applicable
On Campus Housing Does the institution provide on-campus housing?
No
DeVry University was established in the year 1931 by Herman A. It is a private-for-profit university offering college degree programs with Global perspectives and has more than 55 campuses in the U.S. The university's parent institution is Adtalem Global Education.
It provides industry relevant courses and ethics to their vast student community.

The student to faculty ratio is 15:1.

University's acceptance rate is 91%

The total graduation rate of the university is 24%.
---
Online Education at DeVry University
For adults who are unable to pursue their higher education due to various responsibilities and jobs, the university provides various online courses to excel at various levels such as Associate, Undergraduate and Bachelor's degree programs.
The tech-infused curriculum helps the students to get a hands-on experience.
For more details on Tuition and Fees
---
Review
The reviews of the university state that the students find the education standards industry oriented and easy to access. It also states that
Best University for International students who like to pursue education from an old and thriving university of the U.S.

Faculty interaction with students is exemplary as they will make the student feel no pressure and will educate them about their own experiences.

Good backing from instructors with online availability and providing information when necessary for the students

The infrastructure is having a remarkable impact on the students
Location & Contact
Address
3300 N. Campbell Ave.
Request Info
Admissions
Application Deadline Deadline for application submissions. Please contact the school for more details.
N/A
Acceptance Rate Percentage of applicants who are accepted in an Institution.
94%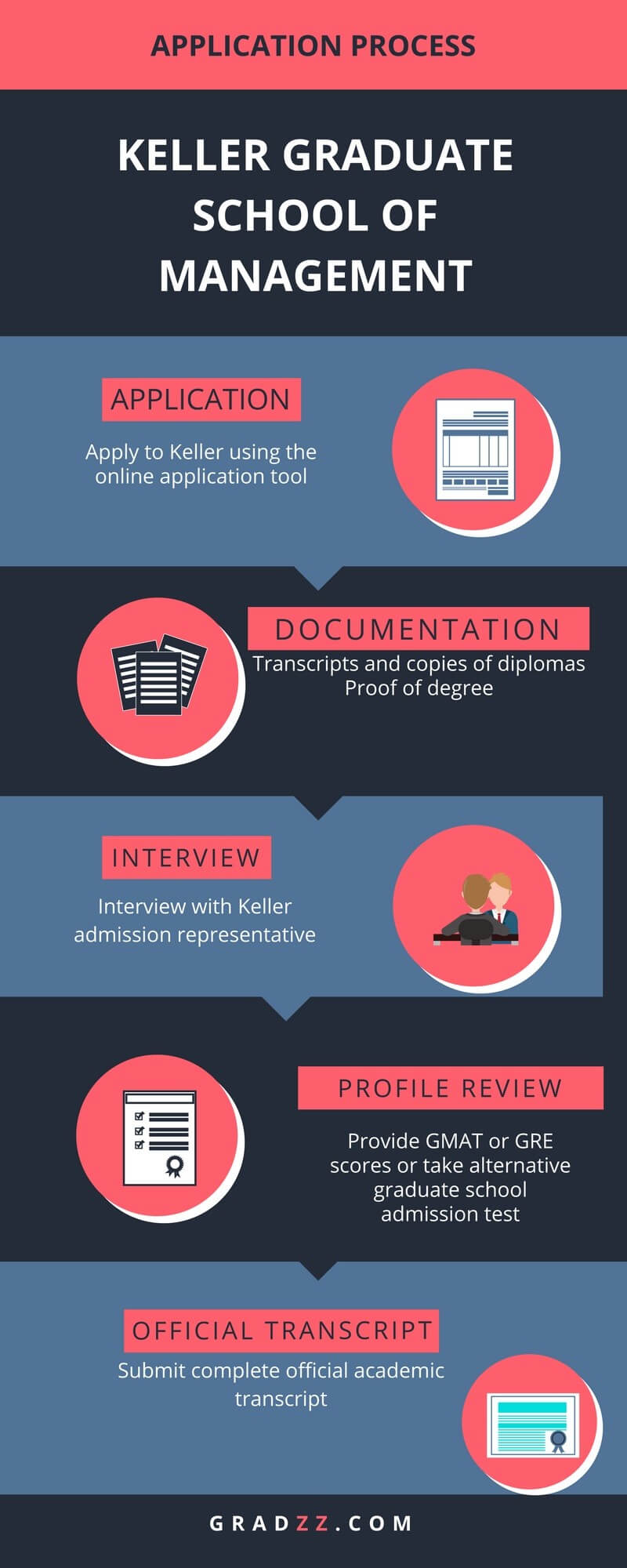 Admissions to DeVry University
General Admission Requirements for DeVry University
Completion of the online admission application form.

An interview with the Admissions Representative.

Candidates must have earned one of the following requirements

A high school diploma or equivalent.

A General Educational Development (GED).

A post-secondary degree or a professional degree.

A minimum score of 60 in Armed Forces Qualification Test (AFQT)

A minimum GPA of 2.0 on a 4.0 scale

Official ACT or SAT scores.

Applicants whose native language is not English must submit English-Language Proficiency scores.

TOEFL paper-based - 500.

TOEFL computer-based - 190.

TOEFL Internet-based - 61.

IELTS score - 6.0.

International Test of English Proficiency (iTEP) score - 4.0.

Pearson Test of English (PTE) - 58.
---
Technology Requirements
Minimum System Requirements
Windows 7 or newer / MAC OS X 10.10 or higher.

Microsoft Office 2016

Stereo sound card, speakers and/or headset, microphone

An email account and internet connection.

Microsoft Internet Explorer 11 and Edge 39/ Safari 9 and 10/ Google Chrome 59 and 60/Mozilla Firefox 54 and 55.

Intel Core 2 Duo — or AMD — 3 GHz processor

4 GB of RAM

CD-RW/DVD-ROM drive

Hard drive - 160 GB minimum

Graphics card and monitor capable of 1024x768 display

A Webcam
Annual Cost to Attend
Net Price Cost of attendance minus any grants and scholarships received.
$27,689
Average Annual Cost
$16,569
The average annual cost of the DeVry University varies depending upon the program a candidate applies for.
Approximately,$24,345 is the amount that is paid by a student enrolled in any program under the university irrespective of their residency. This cost includes tuition fee worth $16,569, Books and supplies worth $360, and other fees worth $940.

Net price is what it actually costs to attend the University when typical grants and scholarships are considered. The net price varies by family income and financial need and it sums up to $11,000.
Academics
Highest Degree Offered The highest degree offered by the Institution.
Master's degree
Student:Faculty Ratio
20:1
Full-Time Retention Rate Percent of the that re-enrolled at the institution as either full- or part-time in the current year.
47%
Part-Time Retention Rate Percent of the that re-enrolled at the institution as either full- or part-time in the current year.
22%
Academic Calendar
Semester
Research Funding per Student
N/A
Majors
Health and Medical Administrative S...
1,565 Graduates
Business Administration, Management...
1,464 Graduates
Computer Systems Networking and Tel...
331 Graduates
Computer Systems Analysis
254 Graduates
Computer Software and Media Applica...
191 Graduates
Electrical Engineering Technologies...
128 Graduates
Accounting and Related Services
96 Graduates
Business/Commerce, General
53 Graduates
Criminal Justice and Corrections
43 Graduates
Computer Engineering Technologies/T...
29 Graduates
Electromechanical Instrumentation a...
16 Graduates
Communication and Media Studies
13 Graduates
More
Student Body
Undergraduate Students
13,068
Socio-Economic Diversity Percent of full-time, first-time students receiving an income-based Federal Pell Grant intended for low-income students.
59%
Race/Ethnicity
1% American Indian/Alaska native
0 Native Hawaiians/Pacific islander
Economic Diversity
36% percentage of students who recieved an income-based Federal Pell Grant intended for low-income students.
Median Household Income
N/A
Campus Life
Housing
The institution does not provide on-campus housing facilities for students.
On Campus Housing Available
No
Freshmen Required to Live on Campus
No
Freshmen Live on Campus
N/A
Undergrads in College Housing
N/A
Campus Food
The institution does not provide any meal plan options.
Average Meal Plan Available
N/A
Athletes
Division Sports Nickname
N/A
Varsity Athletics Association
N/A
Varsity Athletics Conference Primary
N/A
Total Male Athletes
N/A
Total Female Athletes
N/A
Intramural Sports
N/A
Sports Club
N/A
Campus Safety
24-Hour Security Patrol
NA
24-Hour Escort Safety rides
NA
After Graduation
Median Earnings 6 Years After Graduation
$32,600/year
Median Earnings 10 Years After Graduation
$44,100/year
Median Total Debt After Graduation The median cumulative federal debt of undergraduate borrowers who graduated.
Typical Monthly Loan Payment The median monthly loan payment for student borrowers who completed, if it were repaid over 10 years at a 4.53% interest rate.
$129 - 554
Financial Aid
Students Receiving Gift Aid Percent of undergraduate students awarded federal gift aid.
Average Aid Per Year
$6,129
Students Receiving Federal Grants
Average Aid Per Year
$5,370
Students Receiving State Aid
Average Aid Per Year
$4,966
Students Receiving Institutional Grants
Average Aid Per Year
$1,799
Average Grant & Scholarship by Family Income
Aid awarded based on the family income.
The university is offering various federal and institutional financial aids to its students which helps the students to be financially independent and can concentrate on their studies.
These financial aid include student loans, grants, work-study programs and scholarships offered by the federal government, different state corporations, private organizations, and the university as well.
These aids are both need-based as well as merit-based.
The financial assistance can be opted by filling the FAFSA form. DeVry University Federal school code is 010727.
Institutional Aid provided by the institution includes DeVry University Business Edge Scholarship, DeVry University Opportunity Grant.
Military Aid such as Military Tuition Assistance and Yellow Ribbon Program is awarded to the eligible students.
Federal Aid provided include Pell Grants, Federal Supplemental Educational Opportunity Grant, Federal Work-Study, Direct Subsidized Loan, Direct PLUS Loans, Federal Perkins Loans, Direct Unsubsidized Loans.