How to Transfer Colleges: Guide to Transferring Colleges 2022
Learn everything you need to know about how to transfer colleges and universities in 2022.
Over 1.4 million students transferred colleges since 2015, and that number is only increasing with the effects of the COVID-19 pandemic. In fact, 78% of colleges are prepared to increase enrollment due to an increase in transfer students. 
Students are dynamic human beings, which means that their direction can change sometimes, whether it's their heart leading them towards change or an external factor such as a need for part-time hours or a switch in location. The point is: many students consider how to transfer universities. 
Sometimes transferring college is expected, as many students transfer from college programs to 4-year university degrees. 
But, as with any administrative change, students might have some difficulty transferring schools. That's why we put together this guide to transferring colleges, to help you with the process. 
Reasons for Transferring Colleges
Most students consider the possibility of transferring colleges. Here are a few reasons why college transfers are appealing to students:
Affordability
Tuition in the US isn't cheap, especially for international students. Halfway through a degree, it's not uncommon for students to struggle financially and explore cheaper options for education. In other cases, a student might achieve a scholarship from a different school, offering affordability that would entice them to make the switch. 
Transferring from Community College to a University
Community college is usually more financially attainable for students from lower economic backgrounds. However, many high-paying jobs might list a bachelor's degree as a qualification, which encourages college students to transfer to a university. 
Some students also switch from college to university for a new major. 
Relocation
It's common for military students to transfer colleges due to frequent relocation. The General Issue (GI) bill offers educational services for military students.
And, with the COVID-19 pandemic, many students, military or not, might opt for an online college program instead. 
What are College Transfer Credits?
Transfer credits are the credits that your transfer school allows you to transfer to your new degree. The more transfer credits a school accepts, the better chance you have at graduating faster. 
How to Transfer Colleges
If you want to transfer from university to university or from colleges, follow the easy steps below: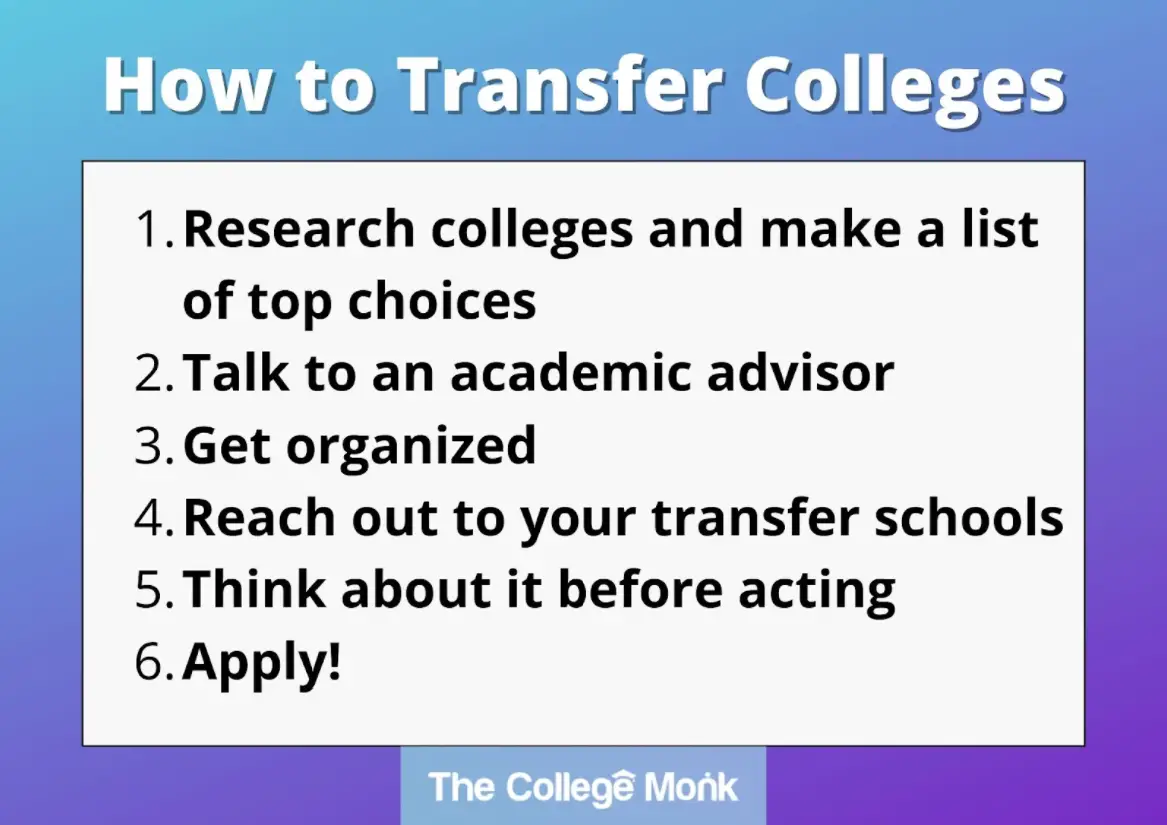 1. Research Colleges and Universities and Accreditation and Make a List of Top Choices
Think about why you want to transfer colleges. Research your choices carefully to ensure they offer what you want to achieve by transferring colleges. You might also consider making a list of top choices for transfer, in case you're unsuccessful in your first choice. 
Accreditation is also an important aspect of research. Accredited schools have strict admission guidelines, but if you're transferring from one accredited school to another, the process is much easier. 
    2. Talk to an Academic Advisor
You are likely new to the college transfer process, but your academic advisor isn't. He or she has likely advised countless students who have successfully transferred colleges. Talk to an advisor to discuss your goals and thoughts. They will also be equipped to help you sort out transfer credits, and advise you on the school's transfer policies and guidelines.
    3. Get Organized
Different schools have different requirements for college transfers. Look at your transfer school's requirements and gather all the documentation you need for your application. This might include standardized test results, academic transcripts, personal essays, and letters of recommendation. 
    4. Reach Out to Your Transfer Schools
Once you have your application ready, contact your transfer schools. Before officially applying, try to get an appointment with an academic advisor for each school you're considering applying to. This shows both professionalism and initiative, and you can have a semi-casual conversation about your interest in the school and find out if you need anything else to successfully apply. 
After your informal chat, you can find out which of your transfer credits will be eligible for consideration by the transfer school. This is a great opportunity to compare schools as well. You might be more inclined to pick a school that accepts more of your transfer credits. 
    5. Think About It
Now that you have all the information you need, it's time to think hard about your decision. Reflect again on your reasons for switching, and consider the pros and cons. 
    6. Apply 
Hopefully, you have all of your documents organized by now, making it easy for you to apply to each school you're considering a transfer to. Keep track of deadlines to ensure you submit your application on time, and follow up regularly if you don't hear back. 
Frequently Asked Questions (FAQs)
    1. Is it Hard to Transfer Colleges?
No. Thousands of students transfer college every year, and schools are especially receptive to college transfers now more than ever. Of course, some schools make it harder to transfer than others. In those cases, conduct lots of research and consult with academic advisors frequently, from both your current school and prospective schools. 
    2. What Is a Good GPA to Transfer Colleges?
Most colleges have a minimum GPA for transfer students. For example, the University of South Carolina requires a cumulative GPA of 2.25 for transfer students. The University of California requires a 3.2. Make sure you check individual college websites for specific information about GPAs. 
    3. Can I Transfer Colleges After 2 Years?
You can certainly transfer colleges after 2 years, as well as during other stages of your education. Remember that if you transfer within your first year, your transfer college is likely to put more weight on your high school transcript when considering your application. 
    4. Can I Transfer and Still Graduate in 4 Years? 
You could only graduate within 4 years if all your credits transfer, or if you take summer school to make up for any lost time. It's certainly possible, but with the average graduation taking 6 years, you should account for the possibility that you might not graduate within 4 years. 
   5. How Do I Transfer Financial Aid to Another College?
Some universities still offer scholarships to transfer students that you can explore. Otherwise, you'll want to connect with a FAFSA representative to transfer any financial aid or loans that you received upon admission to your original college. 
Conclusion
The answer to how to transfer schools or colleges often depends on the school. You'll need to compare and contrast to see which school accommodates your transfer credits and needs best. 
If you're considering transferring university or transferring colleges, don't worry. Plenty of people do it every year, and it might be a great way to better meet your educational needs. When thinking about how to transfer colleges, remember to conduct a lot of research and consult with your academic advisor. 
Blogs You May Be Interested In: