How long does it take to become a doctor
Learn about how long it takes to become a doctor and what types of programs they have to complete.
How Long Does it Take to Become a Doctor?
Wondering how long it will take to start your own practice as a doctor? Well, in this article, we answer your query about how long does it take to become a doctor.
If you have decided to pursue a career in the medical field, you might wonder how long the process will take. 
Becoming a doctor means caring for patients who have trusted you with their health and, in some cases, their life. That means that you can expect it to take a long time to become a doctor.
The answer to the million-dollar question "how long does it take to become a doctor" is, "it depends." The specialty that you choose will play a huge role in how long it takes for you to become a doctor. 
You'll select your specialty relatively early on in your medical career, so you should be able to predict how long your studies will take soon after starting medical school. 
Typically, it takes 10–14 years to become a doctor. This breaks down to four years to earn an undergraduate degree, four years to earn a medical degree, and a minimum of four years in a residency program. 
Once you've completed these steps to obtain a license to practice, roughly 10–14 years will have passed since you finished high school. 
An essential consideration for a student wanting to go into medicine is whether they want to pursue a career that requires education beyond the conventional four-year undergraduate degree. Any kind of work as a doctor will require a large amount of advanced studies.
In this article, we will explain more about how long it takes to become a doctor.
What does a doctor do?
Doctors are the 'harbingers' of good health. They examine patients to figure out what is ailing them, provide diagnoses, and prescribe treatments that can either resolve those ailments or soothe their patients' pain.
Doctors perform an array of functions, including: 
Diagnosis
Examination of patients
Medication prescription
Surgeries and operations
Referrals to specialists (if and when needed)  
Becoming a good doctor requires the individual to develop strong technical, interpersonal, and time management skills as well as a religious and selfless commitment to serving people.
How long does it take to become a doctor?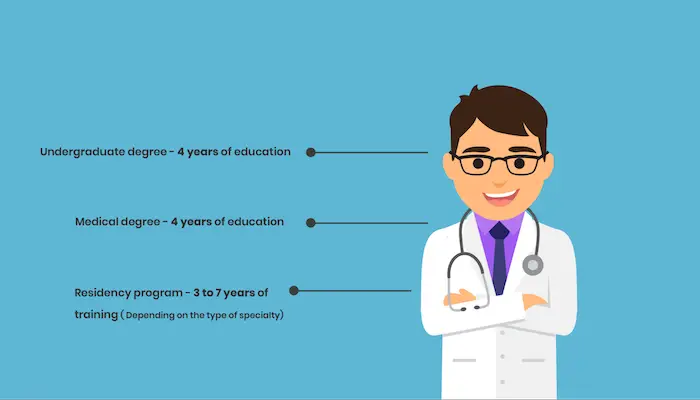 The educational journey of a doctor involves:
Undergraduate degree: four years of education
Medical degree:  four years of education
Residency program: three to eight years of training (depending on the specialty) 
To summarize, a doctor will need to invest 11–16 years in order to obtain a license to practice. After their residency program, a student will also have to sit the medical exam of the state they are planning to practice medicine in. 
These are the steps for becoming a doctor.
1. Undergraduate program
While you can study any subject in your undergrad program, most students will want to study subjects that will help them in future medical studies. 
Popular subjects include anatomy, biology, chemistry, math, and physiology, along with other regular subjects like English and foreign languages. Most undergrad programs have a course duration of four years. 
2. Medical College Admission Test
In order to study medicine, you will need to take and pass the Medical College Admission Test, also known as MCAT.
Once you pass the test, you will have to submit applications to medical schools along with college transcripts, test scores, and letters of recommendation. 
The MCAT is very competitive, and it is important to have strong grades in order to get through your choice of medical school.
3. Medical school
Most medical schools have four-year programs.
The first two years, also known as M1 and M2, are different from the last two years, also known as M3 and M4. M1 and M2 are also known as pre-clinical years and M3 and M4 as clinical. 
In the first two years, students will mostly spend time in classrooms and laboratories studying subjects like biochemistry, psychology, advanced anatomy, medical ethics, and medico-legal topics. 
You will have to attend a lot of didactic lectures and problem-based learning classes.
In your M3 and M4 years, you will be on clinical rotations and spend most of your time in hospital or clinical settings. During these years, you'll be learning from physicians, examining patients, and diagnosing illnesses, all under the supervision of experienced physicians. 
While M3 consists of core rotation at your school and nearby hospital settings and imparts solid training in the most common fields, M4 gives you the flexibility to choose your choice of field. You will also have the option of going to other hospitals for their residency auditions.
At the end of your M2, you will be eligible to take USMLE Step 1, which is commonly used by residency committees to evaluate candidates based on what type of medical specialty they wish to pursue.
Before moving onto the next step, you will have to take the USMLE Step 2, which involves multiple-choice questions and simulated patient interactions.
4. Residency program
If you thought the rigorous, four-year medical program was the final step to becoming a doctor, then you are in for a surprise. While you have achieved and learned a lot in the past four years, that was just the beginning. 
Once you finish medical school, you have to complete a compulsory residency program. Depending on the specialty, most residency programs take anywhere around three to eight years to complete.
After completing your first year of a residency program, you will have to take USMLE Step 3. This is the last and final USMLE to assess whether you are able to apply your knowledge and understanding of biomedical and clinical science and can take on the responsibility of unsupervised medical practice.
Specializations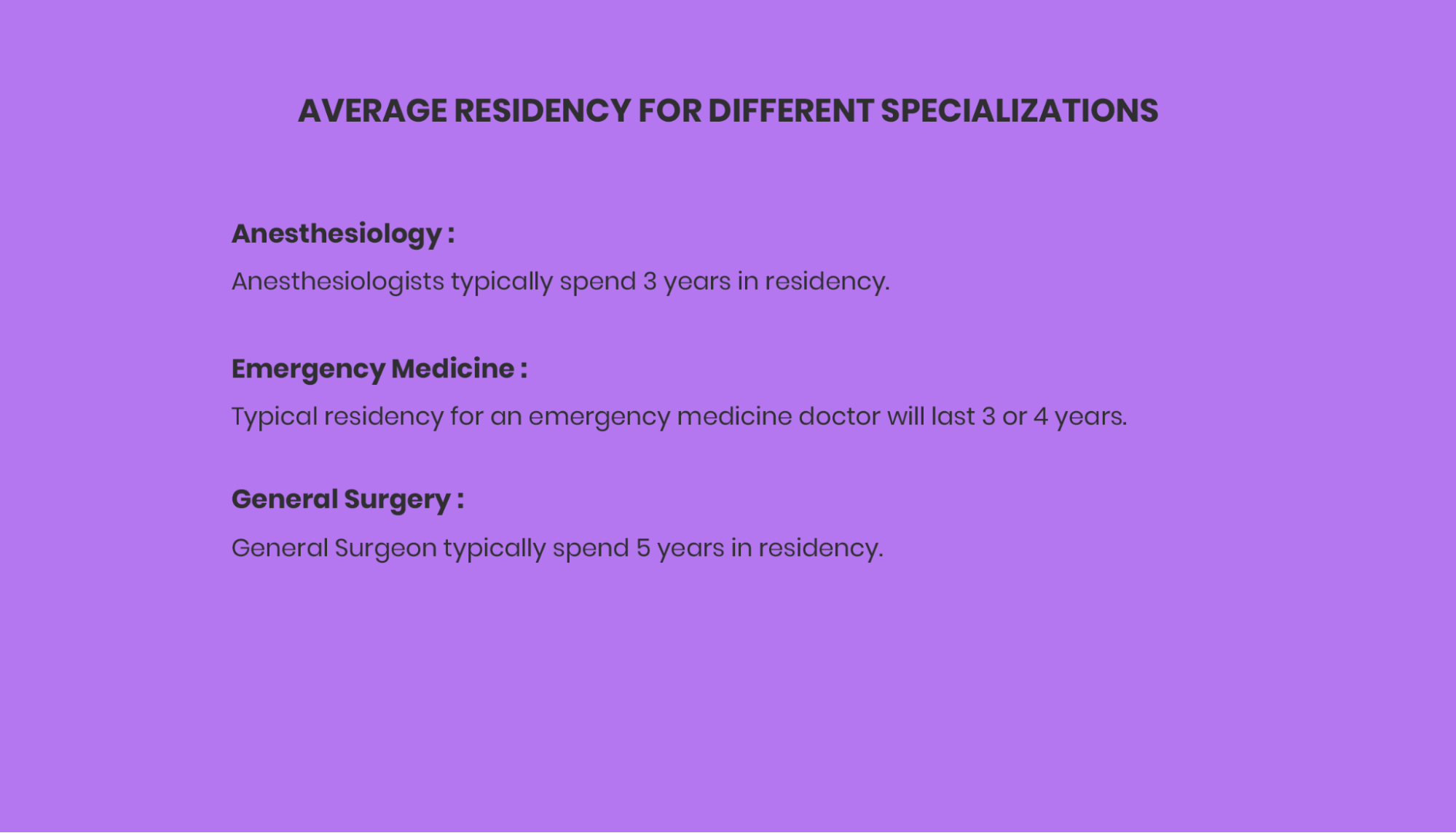 Depending on the specialization you select, the length of your residency can vary greatly. Most will last between three and five years, but some particularly complicated specialties can require residencies as long as seven years.
Here are some possible specializations and their lengths:
Anesthesiology: Anesthesiologists assist during surgeries by making sure that their patients are properly sedated before and during the procedure. This role requires attention to detail and an ability to work closely with surgeons.
Anesthesiologists typically spend three years in residency.
Emergency medicine: Emergency medicine focuses on the kind of medical events that you'd expect to find in an emergency room. This can include everything from heart attacks to wounds from someone getting into a car accident or a fight.
Emergency medicine doctors have to be able to work well under pressure and be able to adapt to all sorts of new situations.
The typical residency for an emergency medicine doctor will last three or four years.
General surgery: General surgery is the specialization for people who want to become surgeons without a focus on a specific type of surgery. 
The typical residency for a general surgeon is five years.
Neurosurgery: Neurosurgery is a type of surgery that focuses on the nervous system, particularly the brain and the spine.
Most neurosurgery residency programs last seven years, making it one of the longest residency programs.
Orthopedic surgery: Orthopedic surgeons help care for the musculoskeletal system: the bones and muscles of their patients. This can include everything from helping with repetitive stress injuries to fixing broken bones.
Most residency programs include one year of residence as a general surgeon plus four more years of residency focusing on orthopedics, for a total of five years.
Pediatrics: Pediatrics is a specialty that focuses on medical care for children. This specialty has one of the shorter residency programs at three years.
5. Fellowship
After you successfully complete your residency program, you are eligible to become a doctor and begin your practice. If you do not wish to practice and instead want to add a subspecialty, you may do so through fellowship programs. A fellowship program may take anywhere between one to three years to complete.
Faster alternatives in the health industry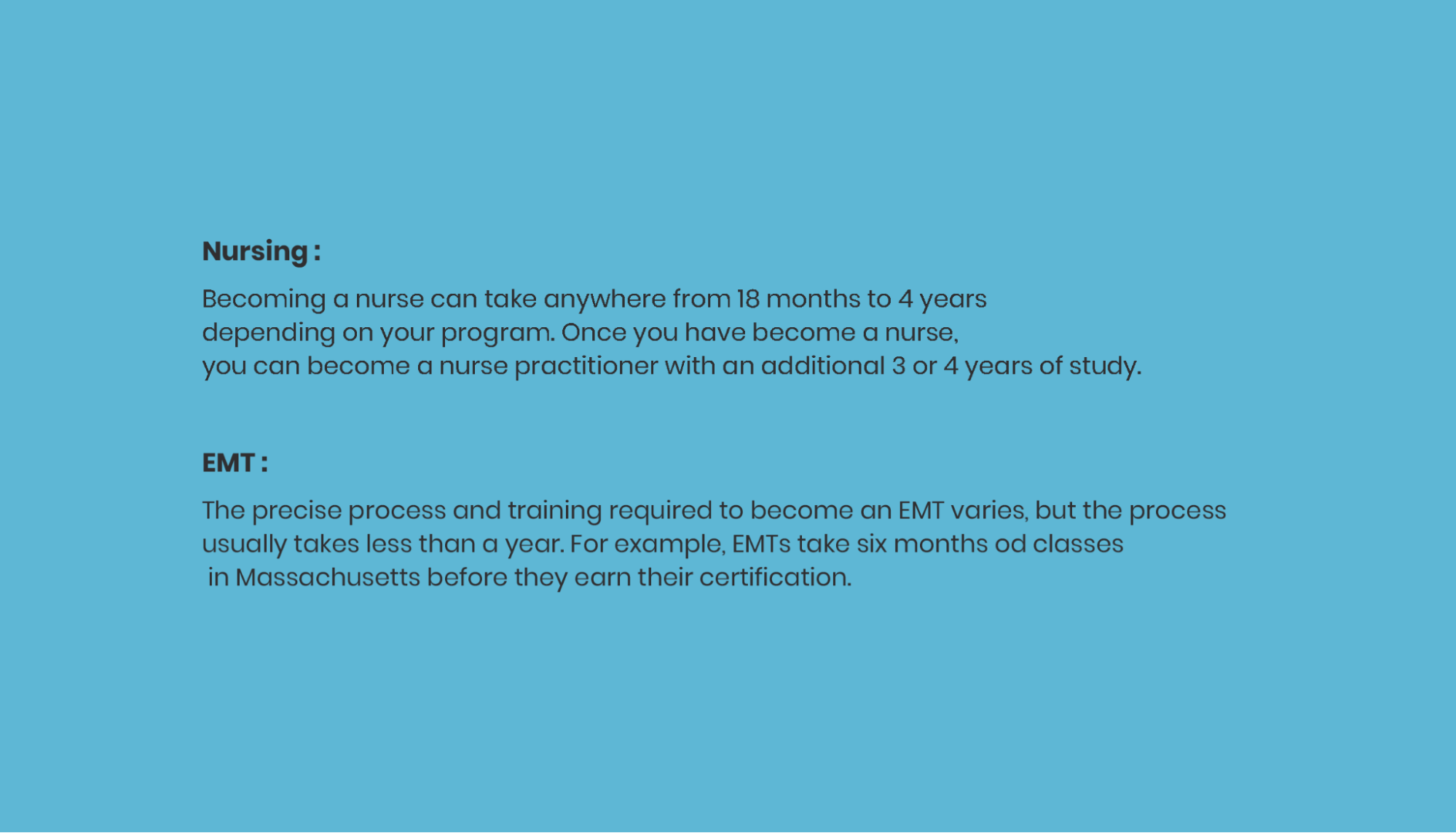 If you want to work in the medical industry, becoming a doctor is just one option. If you're looking for a shorter path to a job, these are some other options that you can take.
Nursing
Nurses assist doctors with their tasks, such as caring for patients, administering medicine on a doctor's orders, conducting physical exams, counseling patients, and more. 
Becoming a nurse can take anywhere from 18 months to four years, depending on your program. 
There are also opportunities for advancement. For example, you can become a nurse practitioner, which involves a greater level of control over a patient's care. Once you become a nurse, you can become a nurse practitioner with an additional three or four years of study.
EMT
Emergency medical technicians (EMTs) are medical workers that provide emergency assistance to people. 
EMTs typically work in ambulances and respond to emergency calls for medical assistance. They can be employed by local governments or private ambulance services.
The precise process and training required to become an EMT vary, but it usually takes less than a year. For example, in Massachusetts, EMTs take six months of classes before they earn their certification.
Conclusion
Ultimately, it takes a minimum of 11 years to become a doctor: four years of undergraduate studies + four years in medical school + three to eight years in residency. 
Medicine is a constantly evolving field, and practicing doctors need to renew their certifications and registrations every few years. It is advised that you do your research before making any decisions about your career path or specialty. 
Attending medical school to become a doctor means a challenging job that generally pays well. However, you have to be ready for the challenges and the long path toward success.
Blogs you might be interested in