Recommendation Letter for Scholarship
Recommendation Letters are very important in a scholarship application as it a true testimony of your achievements and performance in the previous years. Learn how to write and easily bag a scholarship with a recommendation letter.
Updated by Avinash H on 1st June 2020
A recommendation letter is written by authorities including previous employee, colleague, client, teacher, or someone who is in a position to recommend your work. It is designed to add additional importance and merit to a job or college application. Skills, achievements, and aptitude of the person being recommended are mentioned in the recommendation letter. The grade of confidence that the authority has on the person being recommended is visible in the letter.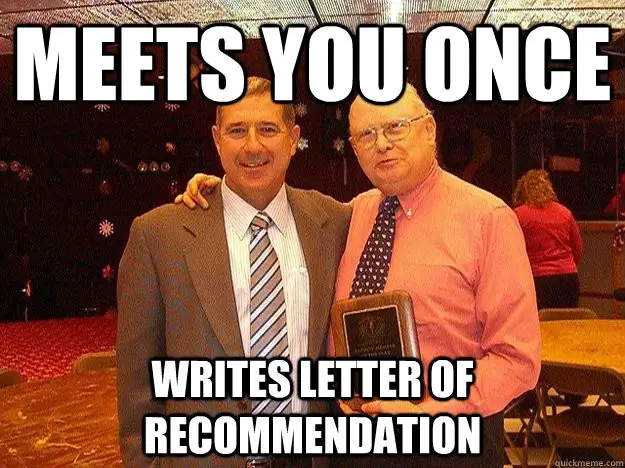 Source: Quickmeme
What to be included in a recommendation letter?
A person's qualifications and skills with respect to his employment or education are included in the recommendation letter. The capabilities that make a person eligible to hold a role or position being applied is also included in the letter to make it effective.
Recommendation letters are mostly written for jobs or admission to graduate schools. A few of the must-haves in a recommendation letter are as given below.
The letter should contain details about the person who is writing the letter of recommendation.

Moreover, the relationship between the author of the letter and the person being recommended should be specified.

The qualifications and specific skills of the person being recommended should also be included, also for entering technology fields.

Recognitions and awards should be specially mentioned.

The statement that the candidate's skills match the requirements of the position should be mentioned.

Target the recommendation letter in order to match the personal abilities of the candidate with the requirements of the job.

The contact information of the author is included for follow-up.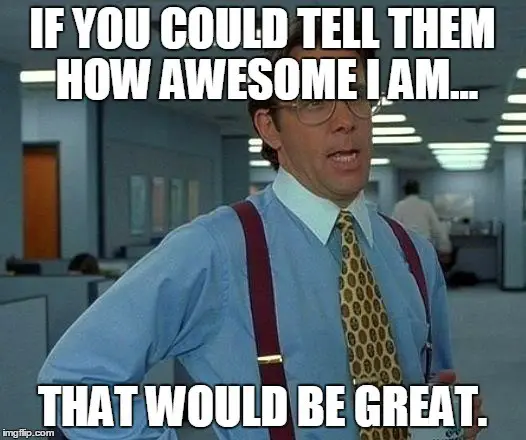 Source: Stemjobs.com
What not to include in a letter of recommendation?
If you aren't interested in recommending a given person for a job/ admission, admit that you wouldn't be able to write the letter of recommendation, rather than faking a positive reply or writing down a negative recommendation.
Even while trying to promote a candidate's accomplishments, never exaggerate.

In an attempt to push the recommendation, do not include false statements.
Who should write a letter of recommendation?
Any authority who is able to directly assess the quality of your work is the most eligible person to write a letter of recommendation.
The person who best knows what you do and it is able to rate it can be requested to write a recommendation.

Before asking sometime to write a recommendation letter, ask if the person has sufficient time to devote to your need.

The person should hold a position that would impress the organization/ institution to which you submit the recommendation letter.
Tips to write a recommendation letter for Scholarship
A few tricks can help your recommendation letter to be rated higher. A few of the tips are as given below.
A list of qualities and accomplishments that you want to highlight can be included in the recommendation letter. And for this, you can request the recommender to rate your abilities for the given skills, in a very polite way.

Find someone who can proofread your recommendation letter. A self proof-reading might not bring out all the errors in the letter.

If in case, you find errors in spellings, grammar, brand names or more you can politely request the recommender to make a quick change.
What Are the Main Parts of a Recommendation Letter?
The sequence of placing contents in a scholarship recommendation is as given below.
Writers Address

Salutation

Introduction

Details

Summary

Conclusion

Letter Closing

Signature and Designation
A sample recommendation letter for Scholarship is given below.
[University letterhead]
[sender's name]
[sender's departmental address—if not printed on letterhead]
[sender's departmental phone number, if available]
[sender's departmental fax number—if not printed on letterhead]
[sender's institutional email address]
[today's date]
[recipient's name]
[recipient's institutional address]
Dear [recipient's name]: or To Whom it May Concern:
It is my pleasure to recommend Jane Doe for admission to [name of program] at [name of university]. I am a fifth-year Ph.D. student at the University of California, Berkeley. I came to know Jane when I was her Graduate Student Instructor for Philosophy 111: Ethical Relativism, taught by Professor John Smith. The course comprised [short description of course]. Jane distinguished herself by submitting an exceptionally well researched and interesting project on ethical practices in ancient Greece. I would rank her in the top 2% of the minority students of the programs that I have taught in the past five years in respect of her writing ability and research skills.
Overall, Jane is highly intelligent and has good analytical skills. Her project on ethical practices in ancient Greece demonstrated her ability to come a detailed understanding of the ethical practices of another, very different, culture, and to analyze the consequences of those practices for contemporary ethical theories. She gave a particularly interesting discussion of the difficult practice of infanticide and showed both sensitivity and detachment when discussing its ethical consequences.
Her overall intelligence is also reflected in her grades for the course, which was by far the best in the class. Jane has excellent communication skills. Her written work is both clear and concise, as well as interesting to read. She demonstrated her oral articulateness in the discussion sections that were an integral part of the course.
Each discussion section focused on a particular ethical dilemma. Students were required to analyze morally problematic situations, and to develop and argue for their own ethical views with regard to the issue in question. Jane was highly proficient in applying the course material in analyzing the problem situations. She always explained her views very concisely and gave supporting arguments that were both clear and persuasive. Jane also demonstrated good teamwork skills in group assignments.
At a personal level, Jane is a well-disciplined, industrious student with a pleasant personality. She went well beyond the course requirements in the quantity and quality of her project, putting in a lot of extra research and attending office hours every week. Throughout the course, Jane demonstrated great perseverance and initiative. Not only was she interested in and motivated to learn the material, but she also put great work into assimilating it to her own experience and developing her own ideas about each ethical topic that we discussed. Jane has been an example of hard work.
Jane is unquestionably an exceptional candidate for graduate study in Ethics. Jane's work in Philosophy 111 suggests that she would greatly benefit from the opportunities for intellectual development provided by a sustained period of graduate study. She has proven herself to have the perseverance, initiative, and intellectual creativity necessary to complete an advanced graduate degree. I would therefore highly recommend Jane Doe.
If her academic performance is a good indication of how she would perform as a graduate student, she would be an extremely positive asset to your program.
If I can be of any further assistance, or provide you with any further information, please do not hesitate to contact me.
Yours sincerely,
[sender's signature]
[sender's name and title]
Note: Save the template on your PC in a PDF format.
Conclusion
A recommendation letter for scholarships usually includes your personal abilities and engagement in your community. It also includes your interaction with faculty and others, as well as a vision for you in the future. A precise recommendation letter is the most efficient way to win a scholarship.
Remember, the goal is to make the student stand out as a top candidate that the scholarship committee would want to invest in.
---
Blogs you might be interested in