How to Fill the FAFSA Application
The FAFSA is an application form to apply for financial aid for higher education. In this article, we discuss step by step guide on how to fill the FAFSA application, Common mistakes during filling the FAFSA application and more.
Updated by TCM Staff on 10th May 2021
Free Application for Federal Student Aid (FAFSA) is a form that is filled by the current and prospective college students of the United States. The applications to this Aid are sorted out to find out the students who are most eligible for financial aid.
The FAFSA includes grants, Federal Work-Study Program, Federal Student Loans, State and School Financial Aids. FAFSA can be applied at the FAFSA.gov website.
In this article, we will detail out a step by step guide on how to fill the FAFSA application.
FAFSA - 2021
Different steps to help you in applying for FAFSA in 2021 are as given below. Students can apply for the same in the FAFSA.gov from Oct 1. 2019 onwards.
A FAFSA ID is created at the FAFSA.gov website.

The US Citizens can fill in their Social Security Number and the others their Alien Registration Number.

On your 2019-20 FAFSA form, your 2018 income records are entered. The IRS (Internal Revenue Service) Data Retrieval Tool will help you in extracting your Tax information to your FAFSA form.

Records of your untaxed income should also be entered.

Records of your assets are also entered.

Identify and enter the list of all schools that you wish to apply to.
A step-by-step guide to applying for FAFSA
Students can choose one of three ways to apply for Federal Student Aid
FAFSA login portal

Complete a PDF FAFSA application

Request a paper FAFSA by calling 1-800-4-FED-AID
FAFSA form filling is a straightforward and easy procedure. Official site fafsa.gov will guide the disciples through the application process; click on the "Start A New FAFSA" icon on the home page and follow the guidelines on the screen.
FAFSA filing includes various steps, here are few instructions to help you along the way.
Step 1 - Create an account (FSA ID)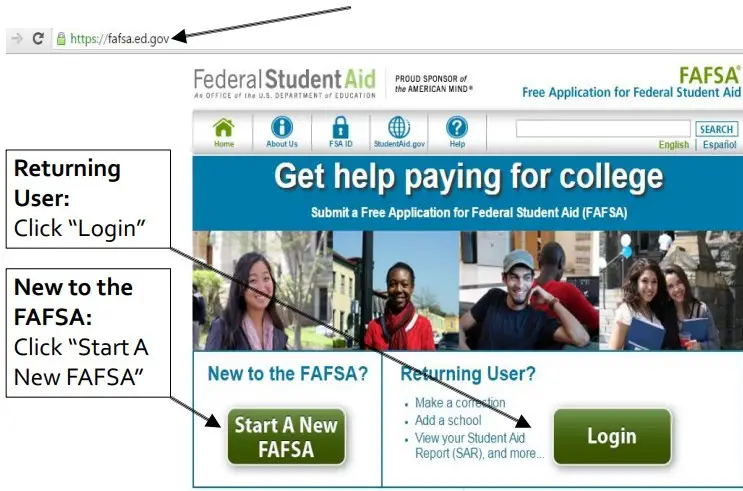 Student - Student FSA ID consists of a username and password which is required to sign in the FAFSA online form. If a student wants to start a new FSA ID, one can log in to fafsa.ed.gov. new FAFSA creation takes approximately 10 min and the user needs to sign in and submit form appropriately. If a student already is a user of FSA ID, he/she need to wait for few days for account confirmation procedure before one can use new FSA ID to renew FAFSA form and sign in online

Parent - If a student needs to report parent information in the FAFSA form, parents need to create their FSA ID to sign child FAFSA online form. Parents can use their FSA ID's right away after creation.
Step 2 - Start applying for the FAFSA
You can start applying for the FAFSA by using fafsa.gov, by doing FAFSA login. The filling process is as follows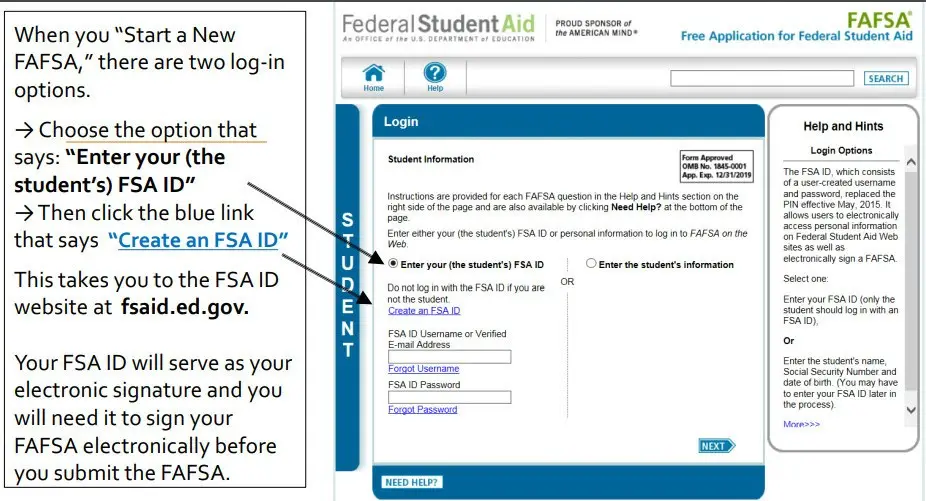 Step 3 - Fill the student demographics section
In this, you have to fill in your information. If a student already is a user of FSA ID, personal data will be existing to save students time.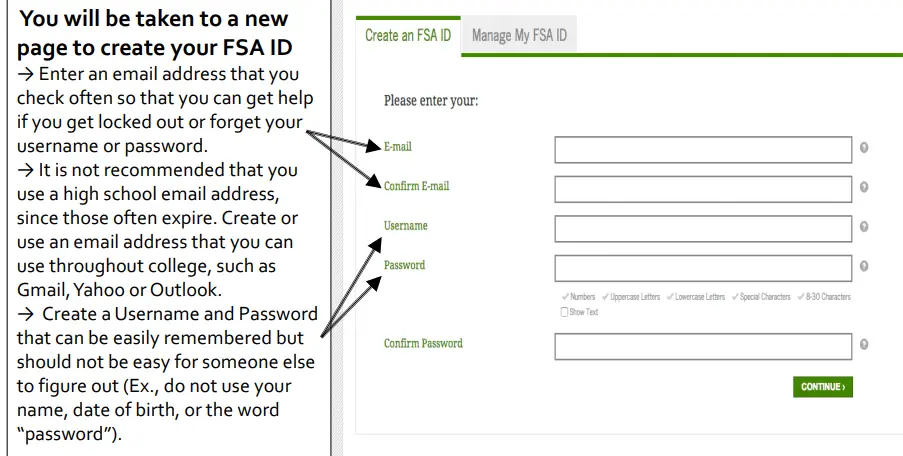 Step 4 - List the schools to which FAFSA is to be sent
If a student doesn't apply or get acknowledged to a school, the school can disregard the FAFSA form.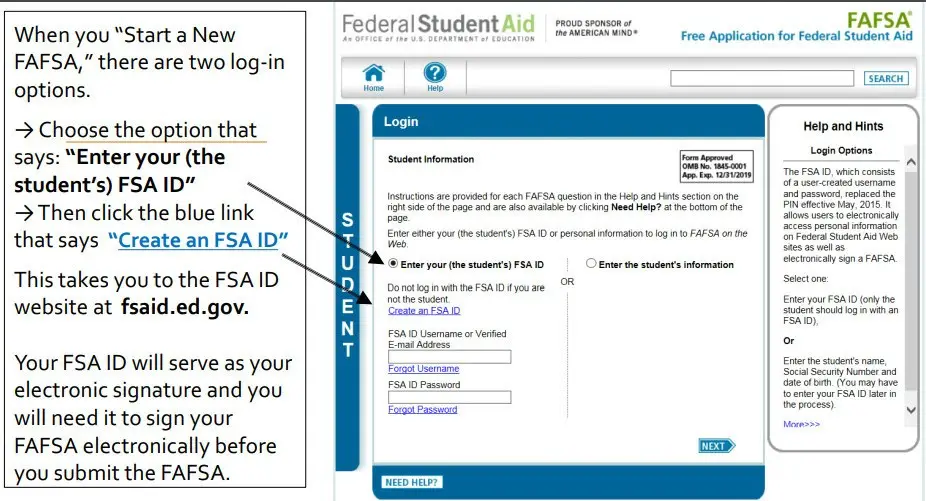 Step 5 - Answering the dependency status questions
A student declaring as a dependent student must provide information about parents as this process can be skipped for independent students.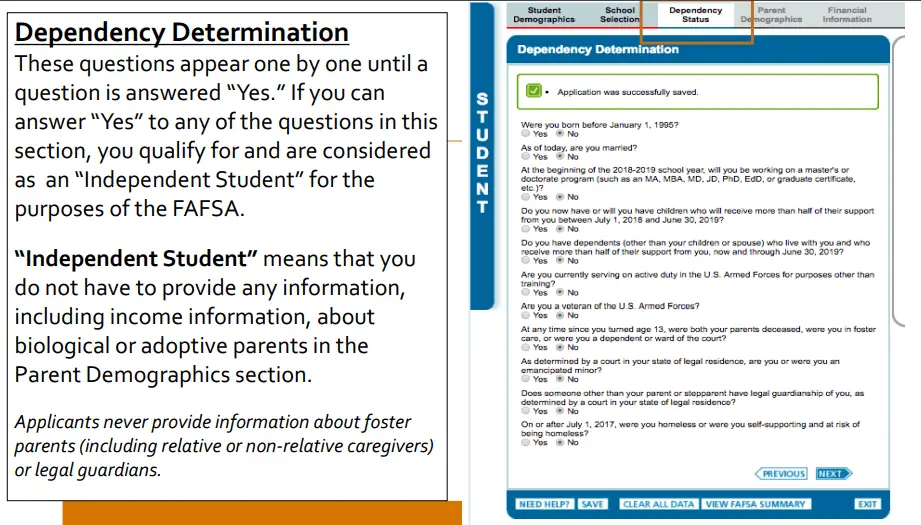 Step 6 - Answering the parent demographics section
The student needs to provide parent demographics irrespective of their residential locations if he/she is reported as a dependent student.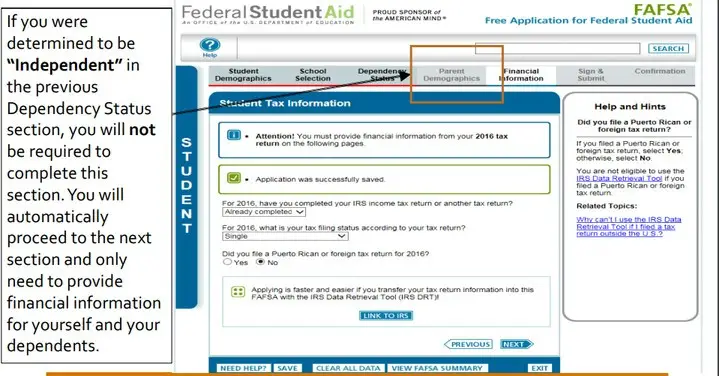 Step 7 - Provide financial information
IRS Data Retrieval Tool can be used for simplification. IRS DRT transfers IRS tax information into FAFSA. To use this tool student needs to indicate "already completed " taxes on financial pages. Click on "LINK TO IRS" if eligible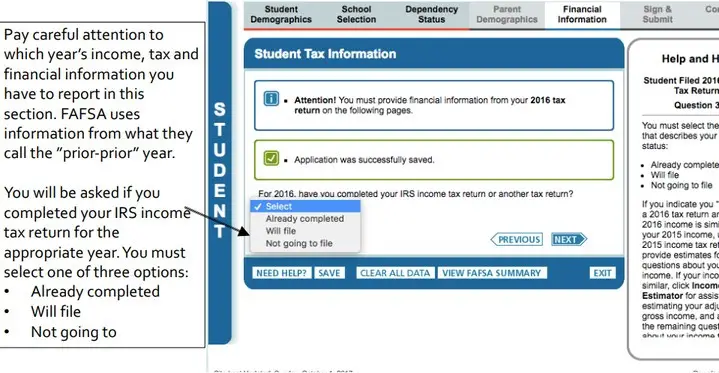 Step 8 - Sign and submit FAFSA form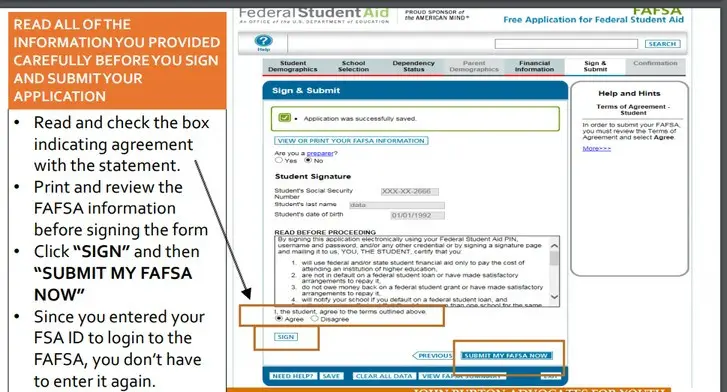 ---
How to get FAFSA Loan: Handbook
For all the services of the FAFSA, a FAFSA form is first completed and submitted.
After completion of the FAFSA application, the institution that you have applied to will send you a financial aid offer.

Depending upon the eligibility that is met, the school tells you to choose either all or part of the loans.

Before the submission of application two important processes such as entrance counseling and MPN submission is carried out.

The entrance counseling session ensures to provide you all information about the repayment of your loan and that you are obliged to pay back the loan amount that you have borrowed.

MPN is the Master Promissory Note which is a legal document wherein you promise your consent to repay the loan with the accrued interest. In MPN you also agree upon the interest rate, repayment period, repayment mode, and more.
---
What is FAFSA Verification?
This process ensures that information provided on FAFSA is accurate
U.S Department of education or institution selects an application for verification. If the application is not selected for verification, reasons might fall under any of the following.
Incomplete FAFSA

FAFSA contains inconsistent data

FAFSA contains estimated data

Random selection
---
FAFSA Eligibility Criteria
Students are eligible for receiving financial aid from the government irrespective of age, race, or field of study. Each student fits in one form of financial aid or another, nevertheless, a student needs to satisfy the following obligations.
The student must be a citizen of the U.S. or an eligible non-citizen with a valid Social Security number.

Male students between age 18-25 should be registered with U.S. Selective Service

Financial aid received from FAFSA should mandatorily be used for educational purpose

Not be in non-payment of any student loan or owe any money for any federal loans (Direct PLUS, Subsidized and Unsubsidized loans, etc.)

Any student receiving financial aid should not involve or be found guilty of any sort of illegal drug possession or selling.

The student should have a high school diploma or a General Education Development certificate

Should be enrolled as a regular student in an eligible degree or certificate program

Have a valid social security number

Maintain satisfactory academic result
---
11 Common Mistakes During filling the FAFSA Application
Several errors occur during and after the FAFSA application that can prevent your application from being accepted. Take caution during all the steps of application and never fall prey to any of the mistakes listed below.
Not completing the form as it takes a lengthy process and consumes more time

Not using the authenticated website provided by the government

Delay in filing the FAFSA form can lead to exhaust of money in schools and colleges

Missing the FAFSA deadline

Not getting an FSA ID before filling the FAFSA form

Not using FAFSA id to start FAFSA form

Not using the IRS Data Retrieval Tool

Improper data Input

Not reporting the required information

Not signing FAFSA form

Not using FAFSA Calculator to check the possible amount of financial aid that one can get
Conclusion
Federal Student Aid (FAFSA) is a free application that is used virtually by two and four-year colleges, universities, and career schools for funding government, state, and university-funded student aid.
One can also use the Common app known as the Common Application after applying for FAFSA to over 700 member colleges and 29 state and District Universities.
Almost two-thirds of college students in the United States receive Financial Aid. Fill your FAFSA form correctly to receive the financial aid at the earliest.
Note: FAFSA is not the only way to get Financial Aid. FAFSA only provides federal financial aid. You can avail scholarships, grants and student loans from other sources as well.
---
Blogs you might be interested in