Is Computer Engineering a Good Major?
Deciding on what to specialize in college? Wondering, "is computer engineering a good major?" Read on to learn about the benefits of becoming a computer engineer!
In the era of technology, computers, the internet, phones, and other gadgets have become a major part of human life. Computer engineers design and test software, circuits, and applications with their combined knowledge of core mathematics, engineering, and computer science. 
And, computer engineering is an in-demand profession, promising stable, lucrative income to computer engineering grads. 
Is computer engineering a good major? We'll cover everything you need to know about this major, including the benefits of being a computer engineer, the pros and cons of computer engineering, and all about the computer engineering working environment to help you decide for yourself! 
Best University Programs for Computer Engineering
There are plenty of universities and colleges to choose from if you want to study computer engineering. Here are a few of the best computer engineering programs for 2021. 
MIT has the #1-ranked computer engineering program in all of the USA. It also tops college lists for materials engineering, aerospace engineering, and electrical engineering. The campus boasts 20 research centers where researchers and students study cancer research, soldier nanotechnologies, and ocean engineering!
UCLA Berkeley ranks second on the best computer engineering schools in the USA. The school is renowned for its 40 research centers and is also ranked #1, tied with MIT, for electrical engineering. 
Stanford has a strong reputation for computer engineering but is reported to be less "cut-throat" than some other similar schools, like MIT for example. 
Ranked #4 in US computer engineering programs, the University of Illinois - Urbana-Champaign offers over 90 courses in computer science. They also have a 15% acceptance rate, making it slightly easier to achieve admission than some of the other high-quality computer engineering schools. 
What Do Computer Engineers Do?
Computer engineers conduct work that mixes electrical engineering with computer science. They use this merging of fields to create systems and hardware for medical devices, aircrafts, electronics, and more. 
You might specialize in any of the following within your computer engineering degree: 
Hardware Systems
Cybersecurity
Distributed Computing
Robotics 
Medical Imaging
 Majoring in computer science will prepare you to:
Create and design devices like phones and routers, circuits, processors, and IoT gadgets
Explain complex topics
Test computer systems to improve them and find inefficiencies
Code with various programming languages, like Javascript and SQL
Design computer networks
Create new technologies
A typical computer engineering working environment is variable, with computer engineers working either remotely, in an office, at a manufacturing firm, or a laboratory! 
What Does the Future in Computer Engineering Look Like?
Due to the increased demand for computer software, the Bureau of Labor Statistics estimates the growth of computer software engineering as 13% percent between 2020 and 2030, an increase higher than the average for most other industries. This means higher salaries, more job openings, and greater demand and workloads for computer engineers. 
Computer hardware engineering displays a lower growth forecast, as software demand continues to accelerate. Growth from 2020 to 2030 is only expected to be 2%, a shocking contrast to the 13% growth for software engineering. 
Pros and Cons of Computer Engineering
Is computer engineering a good career? Like all careers, computer engineering has pros and cons. Consider all these factors before diving into a computer engineering major.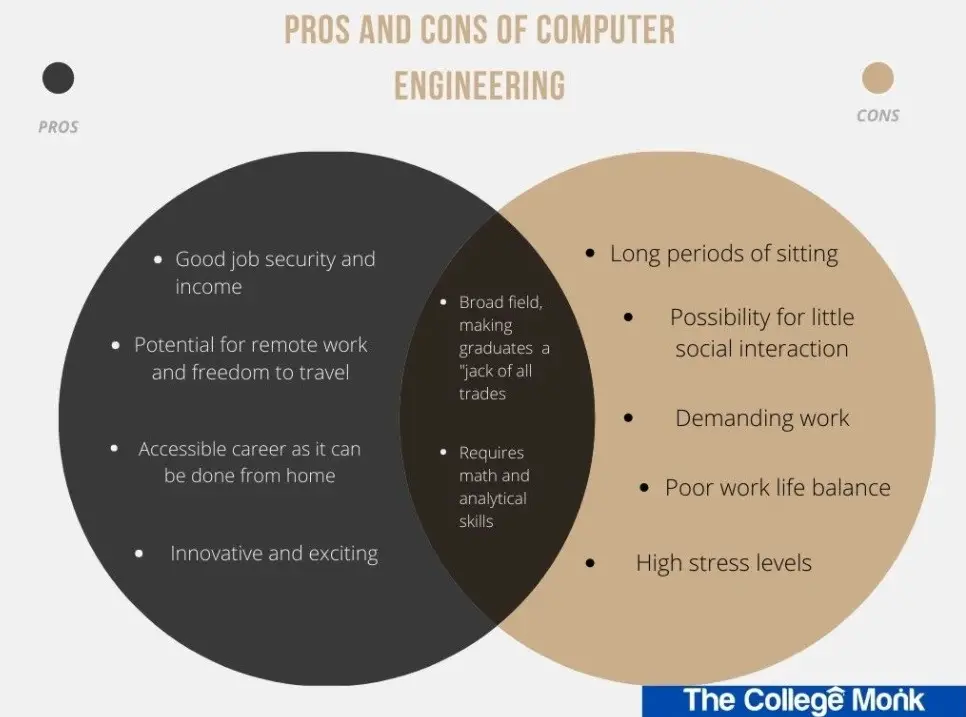 Pros of Computer Engineering
Good Income
The advent of technology not only increased the job openings for computer engineers, but also resulted in high salaries. The average salary for computer engineers in 2021 is about $87,530, but the range is between $77,911 and $97,159. Senior and principal software engineers, who often have computer engineering degrees, can make up to $170K. Many professions have computer engineering backgrounds and similarly lucrative salaries: 
Computer Hardware Engineer - $54K to $105K
Information Technology (IT) Manager - $65K - $131K
Software Developer - $54K - $102K
DevOps Engineer - $63K - $127K
Senior Software Engineer/Programmer - $76K - $139K
Full Stack Software Developer - $60K - $110K
Software Architect - $75K - $143K
Cyber Security Engineer - $62K - $136K
Most professionals in the computer engineering field also receive generous benefits packages, including sick pay, dental, and vacation pay. 
Job Security
The demand for computer engineers continues to increase, offering prospective graduates strong job security. The US Bureau of Labor Statistics estimates the computer and information technology industry to grow 13% from 2020 to 2030, an increase larger than the average for all other job occupations!
Accessibility
Since you can do most computer engineering job duties from your home, it makes an excellent, accessible career for those with certain physical disabilities. 
Additionally, the remote possibilities of computer engineering offer excitement in the form of a potential to travel and work from different countries. Because computer engineers are in demand, people can either start their own practice and work wherever they want, or search for employment in different countries with success. 
Constant Innovation
With the continuous evolution of technologies, standards are increasing in every field. Computer engineers strive to design and develop new products, improving innovation each year. Also various other technologies such as IoT, artificial intelligence, automation, robotics call for coding with the use of various programming languages. This makes for an exciting, innovative career, promoting job satisfaction among computer engineers. 
Cons of Computer Engineering
Lots of Sitting
Sitting for hours and hours on end results in various mobility and back problems. Software engineers in particular are especially prone to neck, shoulder, and back pain due to long periods of sitting. To combat this con, we recommend investing in proper ergonomic office equipment. 
Little Social Interaction
The computer engineering work environment is largely independent most of the time, as engineers can work alone in the office or remotely at home. Since they can go days without seeing colleagues, work doesn't often provide a big opportunity for social interactions, which can result in feelings of isolation and social awkwardness. 
High Stress Levels
Many job roles related to computer engineering are considered high-stress due to rapid growth and demanding workloads. Web developers, programmers, computer software engineers, and IT analysts are all examples of roles with high stress. 
Neutral Facts About Computer Engineering
These can either be pros or cons, depending on your individual preferences or skills. 
Broad Field of Study
Computer engineering graduates report that their field is quite broad, some lamenting that it makes them a "jack of all trades but a master of none." Professionals recommend taking electrical engineering and computer science courses to improve your range of skills and to open up more doors within the computer engineering industry. 
Math Skills
If you're not a big math person, computer engineering isn't the major for you. Students and professionals must use complex math concepts like number theory, graph theory, linear algebra, and discrete mathematics in their day-to-day tasks. 
Conclusion
Is a computer engineering degree worth it? If you want a future with good job security, innovation, lots of math, and lucrative pay — a future in comp engineering is up your alley. 
Unfortunately, computer engineering programs can be expensive. Check out our article about engineering scholarships to help fund your comp engineering education!