11 Online Colleges That Offer Free Laptops
With the rise of online education, there are now many online colleges that provide laptops for students. Here are the top 11 online schools with free laptops.
Online learning is on the rise, especially in recent times seeing that nationwide lockdowns forced schools to shut down their classrooms. However, colleges have always offered online programs, and online colleges, including online colleges that provide laptops to students, have existed for a while.
Online colleges are quite popular in the states (insert stat). In fact, there were almost 7 million Americans enrolled in some form of distance education in 2018. Enrolling in online college offers significant advantages over attending school at traditional campuses. Studying remotely gives you the flexibility to take on a job, raise your children, or do anything else that you'd otherwise have little time to do. The idea is to easily blend education into your life, no matter your circumstances.
You can attend online classes anywhere, as long as you have a laptop and a reliable internet connection. 
At online classes, students and professors interact via the internet, be it through forums, video conferences, lecture videos, slides, or email. Institutions that offer online education create virtual classrooms, which support video conferencing and exam administration. So,  a student needs to own a laptop to access online learning. 
Laptops are an expensive but necessary expense for any online student. You might think, it would be great to attend an online school that provides laptops. Luckily, there are online colleges with free laptops. 
Nowadays, there are online colleges that offer free laptops to students. This gives the online college extra points, as students save on a big expense if they go there. We'll go through a few of the top online colleges that provide laptops for students, and help you find your ideal online school that provides laptops.
Are There Online Colleges That Provide Laptops to Students?
When browsing online colleges, free laptops as criteria should be one of your considerations. Yes, there are online colleges that provide laptops for students. Each specific college has a different way of covering the cost of the laptop. 
Some online colleges factor the cost of their free laptop within their tuition cost. 
Others allow students to borrow institution laptops for their schooling, and the students are responsible for returning the laptops once they graduate. Both options cover or bypass the cost a student would usually incur to obtain a laptop for school. 
12 Online Schools With Free Laptops
Here's a list of 12 online schools with free laptop and iPad offerings for their students:
Thanks to the colleges listed here, the cost of a laptop should no longer deter you from enrolling in an online degree program. Whether the online colleges are offering laptops for free, for rent, or at discounts, you shouldn't let the cost of a laptop stop you from improving your life via a college education.
Northwest Missouri State University offers a  free laptop and rental textbook program. The program saves students about $7,200 per year. The university provides free laptops to full-time undergraduate and graduate students, who may keep the devices as long as they maintain the minimum credit requirements each semester. The program isn't available to online-only students unless the students are undecided online-only students.
Chatham University offers free 13-inch Macbook Air laptops to all incoming first-year students through the Undergraduate 1:1 Program. Transfer students are also eligible for a free MacBook through the program. Students will also receive the following:
Chatham University logo backpack and Speck Case
4-year AppleCare Warranty 
4-year SafeWare Accidental Damage Protection
4-year SafeWare Theft Protection
Helpdesk Repair Services
Valley City State University has a laptop initiative that provides both full-time students and staff with a free laptop of the latest model. Part-time students are also eligible for a free laptop, albeit an older model.
U of M Crookston offers every student a free laptop computer on their first day of class. 
Bethel University offers free laptops to online students enrolled in Graduate School or the College of Adult & Professional studies. Eligible students must also be residents of the state of Tennessee. Bethel provides students with a laptop after they enroll, pay tuition, and complete online orientation. The specific laptop offered is the Dell Latitude 2290 2-in-1. 
Unfortunately, Bethel University does not offer free laptops to students enrolled in the Bethel Seminary or College of Arts & Science. 
Moravian University offers all incoming students a free MacBook Pro laptop AND an iPad, both with Apple Care Warranty. Laptops come equipped with softwares like Microsoft Office 365, Adobe Creative Cloud, Keynote, and more. 
Strayer University provides students enrolled in their online bachelor's programs with free laptops, loaded with Microsoft software. Students can keep the laptop after their university studies if they complete their first three quarters of classes.
Full Sail University's Project Launchbox™ offers students various products, including a laptop, to help them with their studies. Each box comes with tailored products suited for each degree program. For example, digital cinematography students will receive a LaunchBox with a laptop, camera, tripod, lens, headphones, subscription to Adobe Creative Cloud, and more. The cost of the LaunchBox is included with the university's tuition. 
Indiana State University offers the Sycamore Technology Award, which covers the cost of a free laptop. For Fall 2021, Indiana State University offers the Dell Latitude 3520 with Touch Screen laptop for award recipients. All incoming freshmen students to Indiana State University are considered for the Sycamore Technology Award automatically. The award is available to full-time students living in-state and outside the state of Indiana. 
NOTE: This award is only for in-person students. You won't be considered for this award if you're an online-only student. 
Rochester College offers all full-time undergraduate incoming freshmen an Apple MacBook or iPad, completely free of charge. If a student leaves Rochester College before completing 4 consecutive semesters as a full-time student (6 semesters for the laptop), or if a student registers as a part-time student, they will be charged the cost of the laptop. 
Centenary College offers a free laptop to full-time undergraduate students. Students can use the laptop free of charge while they study, but must return the laptop after they graduate or otherwise end their studies. 
California State University (CSU) is offering free iPads to all incoming first-year and new transfer students in the fall 2021 semester. CSU launched the California State University Connectivity Contributing to Equity and Student Success (CSUCCESS) initiative, which aims to provide more equitable opportunities to students.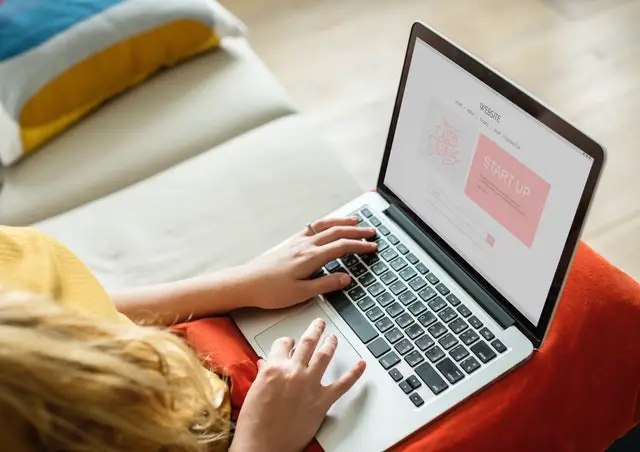 source - pexels.com
Working with Online Colleges
It's unusual to search online institutes that offer free laptops at no charge. The cost of the laptop is often packaged with the tuition payment or assessed as a one-time or ongoing fee. Some online colleges allow students to borrow school laptops that are to be returned to the institution upon graduation.
Both of these options allow students to have a laptop so they can take college courses online. Whatever the agreement, students can enjoy cost-savings by choosing a university that offers laptops.
Online Colleges that Offer Discounted Laptops
Not all colleges offer free laptops like the ones listed above. However, many colleges in the United States offer discounts on laptops with partner companies like Dell and Apple. Others offer laptop rental programs where students can enjoy laptops with minimal or zero rental fees than other providers. 
Saint Leo University's Department of Information Technology (DoIT) has a Laptop Rental Program. The program allows both part-time and full-time undergraduate students to rent a laptop with a $250 deposit.
Southern Nazarene University (SNU)  offers a discounted laptop program in partnership with Dell. Specific pricing and models for SNU students can be found here. Students will also receive a free Microsoft 365 subscription throughout their studies. 
Drexel University offers students multiple computer discounts through different computer providers, like Dell and Apple. All students, full-time and part-time, are eligible for computer discounts. 
Duke University established the Duke Computer Purchasing Program to offer faculty and staff discounted computer products. Full-time and part-time students are eligible for significant discounts on Dell, Apple, and Lenovo computers through the program, as well as extended warranties, reduced expenses for repairs, and flexibility in different computer needs.
What Are the Types of Laptops Programs?
Each university has a unique way of implementing its laptop programs. Here are some of their methods:
Through the degree programs, students get free laptops from online colleges. The laptop belongs to the university or college until the student graduates. If they don't graduate, the school takes back the laptop. If they do graduate, they get to keep it! 
Some Institutes have payment plans for laptops. The payments will be included in different bills or institutional fees. This works similar to the 'lease to own' laptop program, which will provide the customized computers for the student.
Institutes sometimes issue laptops via a loaner program, where students are allowed to access the computers until their graduation. They must give back the laptops after they finish their studies, whether they graduate or not. This program allows the students to use the facility of the laptop until they are done with graduation.
By offering discounts, rolling the funds into your tuition, or giving you a "loaner" laptop, online schools are essentially helping you get a head start that you could not otherwise have accomplished.
Technical Needs of College Students
Some students have greater technical needs than others, whether they study on campus or online. For example, graphic design students will require a laptop with a good graphics card and RAM. Music production students require a good sound card and a lot of RAM. And, business management students don't require much more than a basic laptop with Word and Excel.
Frequently Asked Questions (FAQs)
Are All Students Eligible for Free Laptops at the Above-listed Schools?
No. Each school's laptop program has specific requirements for eligible students. For example, some schools require you to be a full-time student to receive a laptop, and part-time students aren't eligible. Check the university's website for specific information.
Do All of the Above-listed Schools Let You Keep the Laptop Once You Graduate?
Some of the colleges listed above let students keep the laptop after they graduate. However, this isn't the case for all of the schools. Some of them require you to return the laptop after you graduate.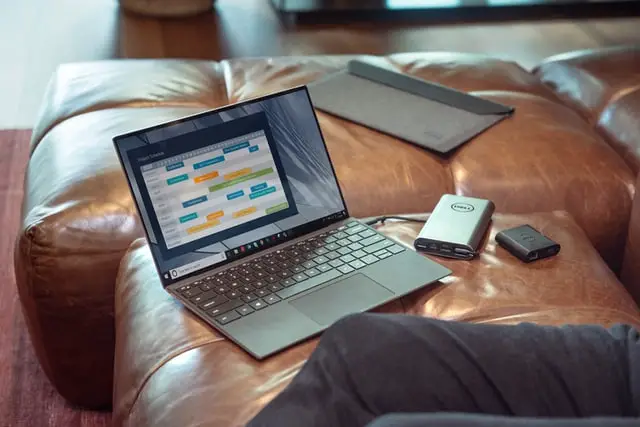 Conclusion
Online classes aren't for everybody. Some people just want the tried-and-true traditional classroom. But online classes offer some unique benefits. These benefits allow people who might not normally be able to get a degree to attend college.
Students contemplating online programs have more choices than ever before. Since online school means students will spend most of their time on a computer, it's only fair that a college provides them with a laptop, right! Unfortunately, that's not the case for every college; but, the above list should help you make an informed decision about which school you'll attend. 
Whether you want to study from the comfort of your bedroom, have more time for a job, or study at a distance — eLearning is an incredible option.
Blogs you may be interested in