Online Colleges that offer Free Laptops
Colleges have recognized the need of technology and thus they are providing laptops to all their non-traditional students. Here are top 10 online colleges that offer laptops to help students pursue their dreams.
Updated by TCM Staff on 17th December 2020
Online learning has been on the upsurge in recent times, it is honestly not hard to see why. Enrolling in online college offers significant advantages over attending traditional campuses. Nowadays, there are online colleges offering free laptops to students. The convenience of learning at home has been a major selling point for studying online. Offering free laptops to their students is a bonus point.
Elearning is the primary method of instruction for online schools in which professors and students interact via the internet. Institutions that offer online education make virtual classrooms, which support video conferencing, and exam administration, among many other features. Thus, it becomes a fundamental need for an online student to have a computer.
You can attend class anywhere with a laptop—at home, a library, or while traveling internationally. Online college classes are designed to fit your needs while allowing you to continue working and tending to your other obligations. The idea is to easily blend education into your life, no matter your circumstances.
Do Online Colleges Offer Free Laptops?
Online coaching centers recognize that students need a laptop to work online. Online colleges give students a chance to register for a laptop. The expense of the computer or laptop is tallied with the tuition payment or measured as a one-time or ongoing fee.
Some Institutes allow students to borrow institution laptops that need to be given back to the school after completion of graduation. Both of these options allow students to have a laptop so they can take college courses online.
10 Best Online Colleges offering Free Laptops
Here's the list of 10 colleges offering free laptops to their students.
Thanks to the colleges listed here, needing a laptop should no longer deter you from going to a traditional program. Whether the online colleges are offering laptops for free, for rent, or at discounts, you shouldn't let the cost of a laptop stop you from improving your life via a college education.
Northwest Missouri State's free laptop and rental textbook programs save students a lot of money. The university provides free laptops to full-time undergraduate and graduate students, who may keep the devices as long as they maintain the minimum credit requirements each semester.
St. John's Academic Computing Initiative offers free laptops to students who enroll in the program. Those who opt-in receive on-campus technical support, a four-year warranty, and preinstalled software compatible with all course requirements. Anyone who graduates with a bachelor's degree from the school can keep the laptop permanently.
Students may select from three different computers: the Apple MacBook Pro, the Lenovo ThinkPad L380, or the Lenovo ThinkPad L380 Yoga. Each comes with a laptop usage fee students must pay each semester. The ACI also provides loaner laptops if students' main devices need significant servicing or repair.
3. Southern Nazarene University
Southern Nazarene University college program includes a free laptop for each undergraduate student enrolling for the first time.
Those who previously received a university-provided laptop, but later withdrew, must return or buy out their previous device before getting a new one.
SNU also offers hardware and software support, and students may earn ownership of their laptops with each semester they complete. Most own their devices outright by the time they graduate.
4. Independence University
Independence University offers both laptops and tablets to students at no charge, giving them the technology they need to complete their coursework.
The school mails all undergraduate students a tablet before they start their first module, and then a laptop during their fourth module. Each module lasts four weeks, and IU offers only online associate, bachelor's, and master's degrees.
5. Bethel University
Students enrolling in Bethel University are offered a Chromebook. Bethel offers "fully online, a mix of face to face and online, and fully online [programs] with one or two-week on-campus intensives each year."
6. Saint Leo University
Saint Leo aims to ensure all students can access the technology required for a rigorous full-time program.
The school's University Technology Services offers a laptop provisioning program for all full-time undergraduate students who live on campus. Those participating in the university's honors program do not need to meet this residency requirement.
7. Strayer University
Strayer University provides students with a free laptop in addition to textbooks, lab supplies, and e-books to prepare students for perfect non-traditional academic life.
The university offers numerous online associates degree, bachelor's degree, and master's degrees and features campuses in Arizona, Colorado, and Idaho.
Laptops from include all the software required in its classes and enables you to monitor your attendance, online courses, financial aid, tuition, and much more.
8. Full Sail University
Project Lunchbox: Full Sail University has teamed up with Apple to provide students with a current-generation MacBook Pro laptop and the software needed for students to have success in their given degree of choice.
The only programs that receive an HP laptop instead of a MacBook Pro are Game Development, Software Development, and Simulation & Visualization degrees.
The Lunchbox itself costs $3,000 but students who maintain above a 1.0 GPA receive a $3,000 scholarship to cover the cost.
9. Indiana State University
Indiana State University offers the Sycamore Technology Award which covers full laptop expenses to students who are enrolled and are eligible, as determined by the FAFSA.
This scholarship is open to both in and out-of-state residents–but not available to international, returning Indiana State or online-only students. All incoming freshmen are automatically considered for the award while transfer students must apply for the scholarship.
10. Rochester College
Rochester College offers all full-time undergraduate incoming freshmen an Apple MacBook or iPad completely free. Students who transfer to Rochester with 29 credits or less are also eligible to receive a free MacBook or iPad.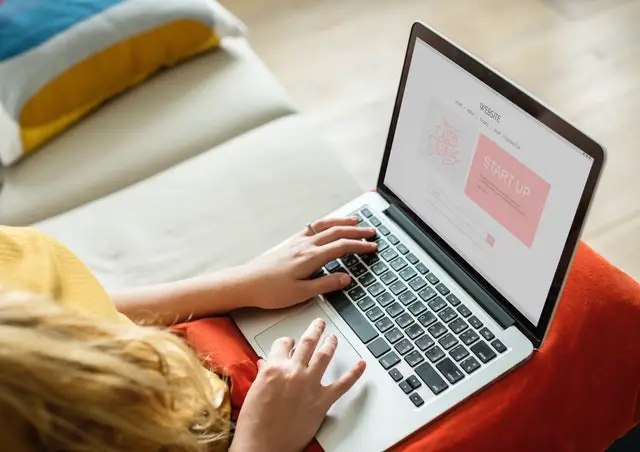 source - pexels.com
Working with Online Colleges
It's unusual to search online institutes that offer free laptops at no charge. The cost of the laptop is often packaged with the tuition payment or assessed as a one-time or ongoing fee. Some online colleges allow students to borrow school laptops that are to be returned to the institution upon graduation.
Both of these options allow students to have a laptop so they can take college courses online. Whatever the agreement, students can enjoy cost-savings by choosing a university that offers laptops.
What are the types of Laptops Programs?
The different types of laptop programs are -
Through the degree programs, students get free laptops by online colleges. Where the computer belongs to an institute until the complete graduation. After the full completion of graduation by a student in the same institute, the computer will be owned by the respective student.
Some Institutes have payment plans for the laptops. The payments will be included in different bills or institutional fees. This works similarly as the 'lease to own' laptop program, which will provide the customized computers for the student.
Institutes issue laptops via loaner program, where students are allowed to access the computers until their graduation. They must give back the laptops when they discontinue the degree or after completion of the degree. This program allows the students to use the facility of the laptop until they are done with graduation.
Online schools that offer online classes know the value of being able to access the internet from anywhere – so it makes sense for them to provide easy access. Laptops are a big part of accessing these classes, and the option to own one is a big help to students relying on financial aid to cover the cost of tuition, but can't afford the lump sump expense of a laptop upfront.
By offering discounts, rolling the funds into your tuition, or giving you a "loaner" laptop, online schools are essentially helping you get a head start that you could not otherwise have accomplished.
Technical Needs of College Students
TECHNOLOGY SMARTS matter, whether you're studying on campus or online. But as an online student, technology inherently plays an even greater role in your coursework. Knowing from the outset what technology is required can boost your chances of success.
The technical needs for each type of major or program vary.
For example, graphic design courses will require a laptop with a good graphics card and RAM, music production classes require a good sound card and a lot of RAM, while a management course may require nothing more than a basic laptop with Excel and Word. Make sure to manage the freedom you get by being productive that comes with online learning.
Conclusion
Students contemplating online programs have more choices than ever before. Approximately 95% of Institutes with student populations of 5,000 or more have online course offerings. Since all the classes are online, it's fair enough to provide computers to students via online colleges.
Online colleges provide students with a chance to register for laptops, which is the financial turnover that applies to students and colleges. Be sure to consider the cost, convenience, access, and opportunities present at these programs
Online classes aren't for everybody. Some people just want the tried-and-true traditional classroom. But online classes offer some unique benefits. These benefits allow people who might not normally be able to get a degree to attend college.
Whether you want to study from the comfort of your bedroom or increase your computer skills, eLearning is an incredible option.
Blogs you may be interested in