$21,753
Avg.Financial Aid
About Creighton University
Type Control of Institution - Public/Private
Private
Not-For-Profit
4 Years
Student Population Number of Students attending College
8,910
Website
https://www.creighton.edu
Accreditation Accreditation is the process by which the quality of learning at various educational institutions are evaluated. Read More.
HLC
Religious Affiliation Indicates religious affiliation (denomination) for private not-for-profit institutions that are religiously affiliated.
Roman Catholic
On Campus Housing Does the institution provide on-campus housing?
Yes
Creighton University is one among the 28 Jesuit colleges and universities in the U.S. It is one of the best online colleges providing online education in the state of Omaha. It was founded in 1878 by five Jesuits and has a Roman Catholic affiliation. This university is celebrating 140 years from the day of its commencement. The alumni of this university are called as Bluejays. It is a private not-for-profit university.
Currently, more than 8000 students are studying in this university. It is having more than 600 full-time faculties with 120 acres huge campus.

University's acceptance rate is 72% and the graduation rate is 81%.

The student to faculty ratio is 11:1.
Creighton University School of Medicine It is one of the largest healthcare providers in Nebraska. School is located in Omaha which is termed as School of Medicine. Creighton University provides graduation to the students of the medical school and grants the Doctor of medicine degree as well.
---
Online Education at Creighton University
This university is offering students with customizable programs in a supportive learning community. It is offering 30+ programs in various domains. It is providing online and hybrid programs for more than 2000 students.
The highly ranked and successful online programs provided by this university are Business, Healthcare, and Leadership. The students can easily access the course.
For more info on Tuition and Fees
---
Reviews
Some of the reviews by the students about the university are
The professors in this university are outstanding with their skills and expertise in teaching.

This college is welcoming and supportive to students from diverse backgrounds

The university is having good infrastructure and facilities for the students to learn.

Its academics challenge students to think critically and collaborate with others.

Students felt that service programs provided by the college are exemplary and provided them with rich experience.
Location & Contact
Address
2500 California Plaza
Request Info
Rankings
U.S. News and world report Rankings for Creighton University are as follows
It ranks 1st in the Regional Universities Midwest in the 2019 edition

Some of its online programs are ranked as the top of the categories best online programs in 2018

It ranks 228 according to the Forbes rankings.
Admissions
Application Deadline Deadline for application submissions. Please contact the school for more details.
15th Feb
Acceptance Rate Percentage of applicants who are accepted in an Institution.
71%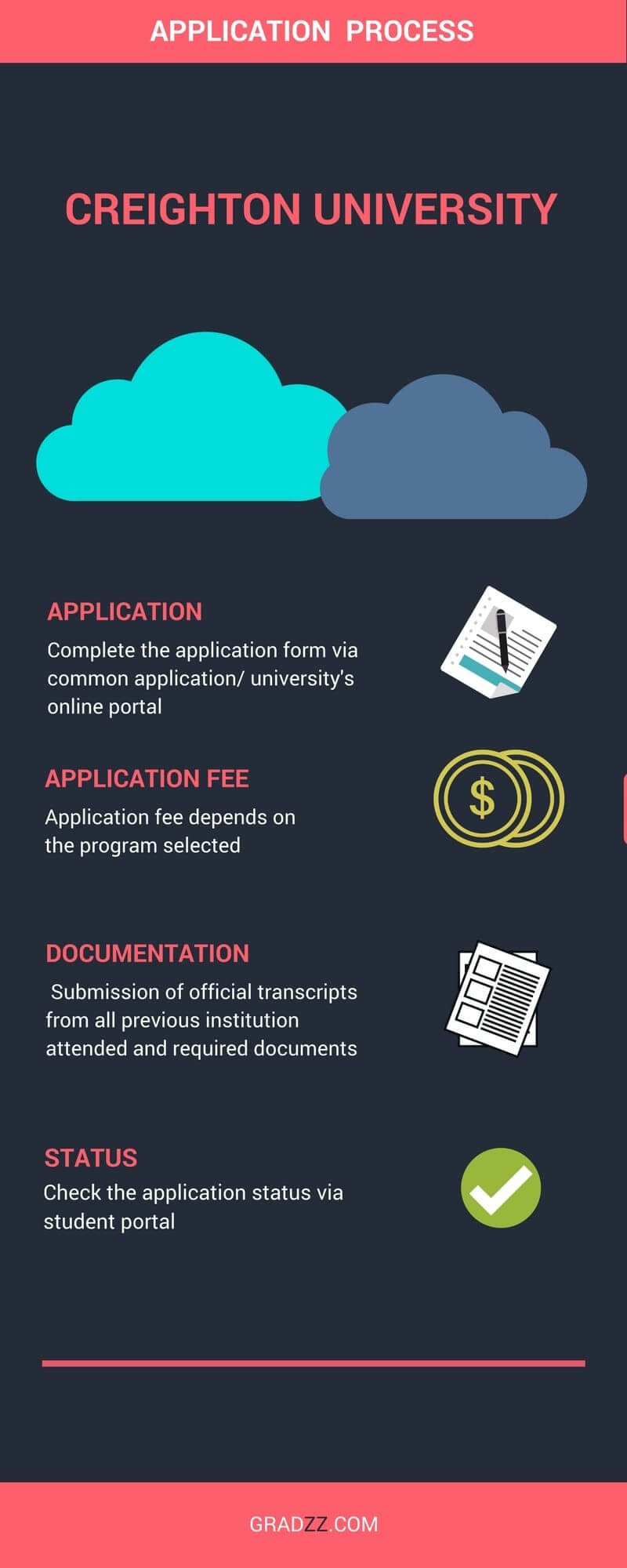 Admissions to Creighton University
Admission Requirements for Bachelor Programs
Completion of the online application form.

High School/GED completion.

Official transcripts from all previous institution attended.

A personal statement.

Letter of recommendation and a resume.

Active duty military/veterans must submit JST, CCAF or transcripts.

---
Admission Requirements for Master Programs
Completion of the online application form

A Bachelor's degree from an accredited university

Official transcripts from all previous institution attended

Two letters of recommendation and a resume

A personal statement

GMAT/ GRE scores (if required)

---
Admission Requirements for Doctorate Programs
Completion of the university's application form.

A Master's degree or equivalent degree from an accredited university.

Official transcripts from all previous institutions attended.

2-3 letters of recommendation and a resume/curriculum vitae.

---
Note
International students from institutions where English is not the first language must submit TOEFL/IELTS scores.

Test of English as a Foreign Language (TOEFL) Paper-based – 557

TOEFL Internet-based (iBT) – 90

International English Language Testing System (IELTS) – 6.5
Annual Cost to Attend
Net Price Cost of attendance minus any grants and scholarships received.
$31,317
Average Annual Cost
$38,200
Books And Supplies
$1,200
Room And Board The charges for an academic year for rooming accommodations and meals for a typical student.
$11,036
Budget For Other Expenses
$2,800
Total One Year Cost
$54,952
Academics
Highest Degree Offered The highest degree offered by the Institution.
Doctor's degree
Student:Faculty Ratio
11:1
Full-Time Retention Rate Percent of the that re-enrolled at the institution as either full- or part-time in the current year.
89%
Part-Time Retention Rate Percent of the that re-enrolled at the institution as either full- or part-time in the current year.
N/A
Academic Calendar
Semester
Research Funding per Student
$2,713
Majors
Registered Nursing, Administration,...
149 Graduates
Biology, General
96 Graduates
Finance and Financial Management Se...
93 Graduates
Psychology, General
87 Graduates
Health and Physical Education/Fitne...
61 Graduates
Accounting and Related Services
43 Graduates
Business Administration, Management...
42 Graduates
Computer and Information Sciences,...
41 Graduates
Health Services/Allied Health/Healt...
38 Graduates
Health and Medical Administrative S...
36 Graduates
Romance Languages, Literatures, and...
33 Graduates
Allied Health Diagnostic, Intervent...
23 Graduates
English Language and Literature, Ge...
20 Graduates
Anthropology
18 Graduates
Computer Science
13 Graduates
Natural Resources Conservation and...
13 Graduates
Theological and Ministerial Studies
13 Graduates
Communication and Media Studies
11 Graduates
Teacher Education and Professional...
11 Graduates
Neurobiology and Neurosciences
10 Graduates
Fine and Studio Arts
9 Graduates
Classical and Ancient Studies
6 Graduates
Design and Applied Arts
6 Graduates
Political Science and Government
6 Graduates
Dental Support Services and Allied...
5 Graduates
International Business
5 Graduates
Peace Studies and Conflict Resoluti...
5 Graduates
Classics and Classical Languages, L...
4 Graduates
Germanic Languages, Literatures, an...
4 Graduates
International Relations and Nationa...
4 Graduates
Drama/Theatre Arts and Stagecraft
3 Graduates
Environmental Control Technologies/...
3 Graduates
Sustainability Studies
3 Graduates
Business/Commerce, General
2 Graduates
Computer Software and Media Applica...
2 Graduates
Atmospheric Sciences and Meteorolog...
1 Graduates
Non-Professional General Legal Stud...
1 Graduates
More
Student Body
Undergraduate Students
4,446
Socio-Economic Diversity Percent of full-time, first-time students receiving an income-based Federal Pell Grant intended for low-income students.
14%
Students Gender
LGBTQIA STUDENT RESOURCE GROUPS
Race/Ethnicity
0 American Indian/Alaska native
0 Native Hawaiians/Pacific islander
Economic Diversity
36% percentage of students who recieved an income-based Federal Pell Grant intended for low-income students.
Median Household Income
$68,444 per year
Campus Life
Housing
The students can reside on campus and 96% of Freshman Live On-Campus.
On Campus Housing Available
Yes
Freshmen Required to Live on Campus
No
Freshmen Live on Campus
96%
Undergrads in College Housing
58%
Averege Housing Cost
$6,168/year
Campus Food
The institution has several dining and meal plan options available to students and the average meal plan cost is around $4,868/year.
Average Meal Plan Available
$4,868/year
Athletes
Division Sports Nickname
Billy the Bluejay
School Colors
white and blue
Varsity Athletics Association
NCAA
Varsity Athletics Conference Primary
Not applicable
Total Male Athletes
104
Total Female Athletes
160
Intramural Sports
13
Sports Club
36
Sports Team (Men)
Baseball
Basketball
Cross Country
Golf
Soccer
Tennis
Sports Team (Women)
Basketball
Cross Country
Crew-Rowing
Golf
Soccer
Tennis
Volleyball
Campus Safety
24-Hour Security Patrol
Yes
Campus Emergency Phones
Yes
24-Hour Escort Safety rides
Yes
Mobile Campus Emergency Alert
Yes
After Graduation
Median Earnings 6 Years After Graduation
$47,500/year
Median Earnings 10 Years After Graduation
$59,700/year
Median Total Debt After Graduation The median cumulative federal debt of undergraduate borrowers who graduated.
Typical Monthly Loan Payment The median monthly loan payment for student borrowers who completed, if it were repaid over 10 years at a 4.53% interest rate.
$202 - 280
Financial Aid
Students Receiving Gift Aid Percent of undergraduate students awarded federal gift aid.
Average Aid Per Year
$21,753
Students Receiving Federal Grants
Average Aid Per Year
$5,648
Students Receiving State Aid
Average Aid Per Year
$2,273
Students Receiving Institutional Grants
Average Aid Per Year
$20,933
Average Grant & Scholarship by Family Income
Aid awarded based on the family income.
Total Needs based Scholarships/Grants
$44,298,702
Total Non-Needs based Scholarships/Grants
$34,371,083
The university offers a host of financial aids to the eligible students as well as the students in need. Creighton University Federal school code is 002542 which will be helpful for students to apply for various financial aids from this university.
Pell grants, Federal Supplemental Educational Opportunity Grant, Federal Loans, Health Loans, Nursing Loans, Federal Work-Study were some of the Federal Aids awarded at the university.

The Nebraska students can avail the State Aid of Nebraska State Grant provided by the university.

Institutional Grant is also available at the university which is the Creighton University Grant. It also provided institutional loans to the students in need.

198 military students received Post 9/11 GI Bill benefits as Military Aid from this university.
Creighton University Scholarships
Ahmanson Foundation scholarship

AMDG RAD Scholarship

Alpha Sigma Nu Scholarship

Alumni Association Scholarship

ROTC Scholarship