$28,536
Avg.Financial Aid
About Regis College
Type Control of Institution - Public/Private
Private
Not-For-Profit
4 Years
Student Population Number of Students attending College
2,757
Website
www.regiscollege.edu
Accreditation Accreditation is the process by which the quality of learning at various educational institutions are evaluated. Read More.
CIHE
Religious Affiliation Indicates religious affiliation (denomination) for private not-for-profit institutions that are religiously affiliated.
Roman Catholic
On Campus Housing Does the institution provide on-campus housing?
Yes
Regis College is a private, not-for-profit Catholic college. It was established in 1927 by Sisters Of Saint Joseph in Boston. It was founded by Mother Mary with a mission to provide equal education to all the people without any distinctions. The mission of the college is to provide access to education based on Christian values. It started its courses with 55 students of which 33 resident and 22 daily students coming from their homes.
It started as a complete female educational institute and later in 2007, it officially transformed from female only college to a co-education college.
It is a Catholic college evolving continuously with the global needs its online degrees nursing and health science programs with topnotch technology and industry-focused curriculum.
The student-faculty ratio of the college is 11:1 which clearly states that for every 11 students, there is one teacher available which is quite good. So, we can conclude that the strength of the college is quite small so it becomes easy for the students to focus on the students.
Highlights of the College
| | |
| --- | --- |
| Factors | General Information |
| Campus Type | Suburb, Large |
| Facilities | Housing, Library, Bookstore, and others |
| Students Services | Placements, Clubs, Safety, and others |
| Retention Rate | 82% |
The graduation rate of Regis College is 46% and the student loan default rate is 5.2%.
---
Online Education at Regis College
Regis College provides a wide range of online programs. These online programs are more convenient to the students as compared to the on-campus programs as it is affordable by most of the students because of its reasonable price. It is most preferable for those who are looking for part-time education.
The campus students can also access the online services which are related to their courses, online library is also available for its students to get acquainted with more knowledge in their field of study.
The college Moodle is exclusively available for the online students to make them get a classroom feeling by providing classes through this online platform. It uses recorded videos and video interfaces to make learning easier for students.
Admissions
Application Deadline Deadline for application submissions. Please contact the school for more details.
N/A
Acceptance Rate Percentage of applicants who are accepted in an Institution.
78%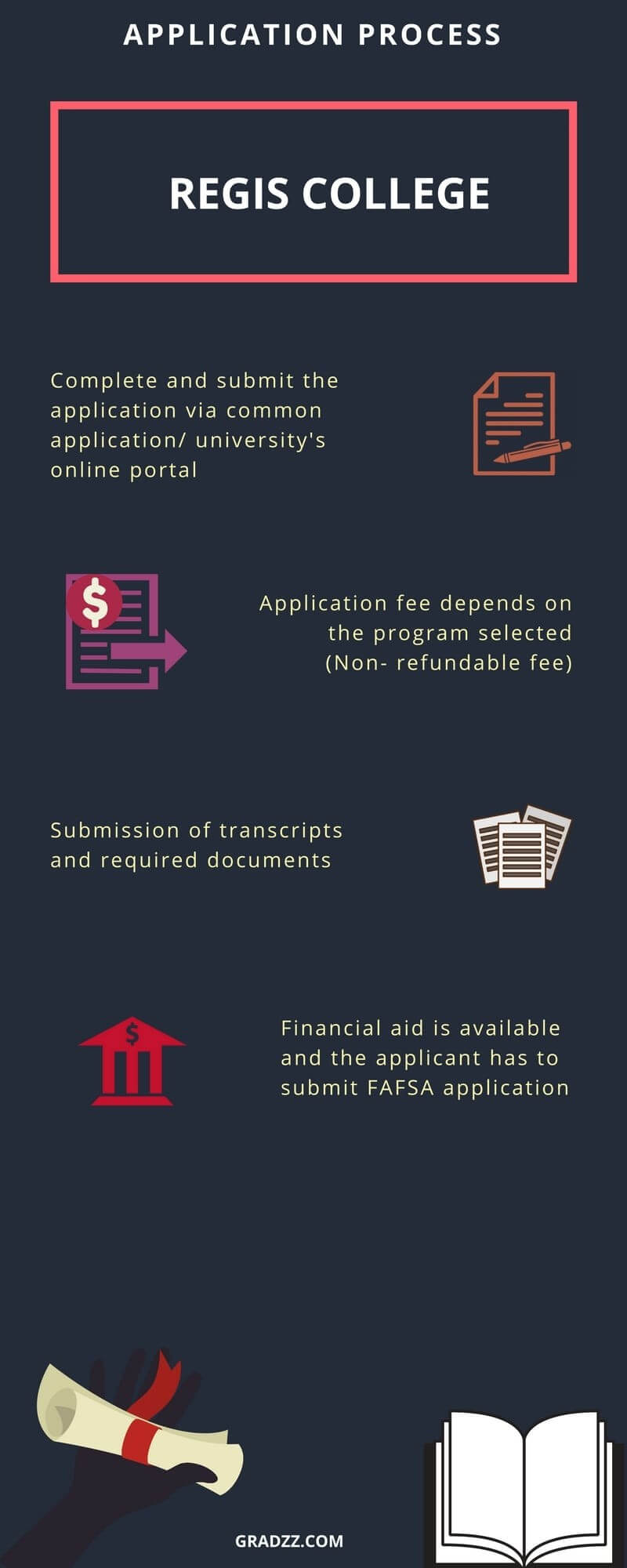 Admission Requirements
---
Acceptance Rate
The acceptance rate of Regis College is 97% which means that the out of every 100 students, the college can intake 97 students of their choice.
Statistics
The total number of students who have applied for the college is 1,707 out of which the college selects the total candidates to be admitted is 1,655. Almost 345 students have enrolled for the course.
---
Admission Requirements
Following are the admission requirements to get admitted to Regis College.
Application fee
Undergraduate - $50
Graduate - $75
Application Deadline
Regis College is accepting the applications on a rolling basis. However, the priority is given to those students who apply by 1st November before 1st February.
SAT Requirements
The candidates are recommended to write the SAT exam for getting admission to the college. SAT is the standard form of the test required by the universities to enroll the students in the US.
ACT Requirements
The students can also write ACT as an alternative for the SAT and get a good score to get admission.
---
Admission Process
Documents Required
Before getting enrolled in college, students are required to have some documents for further process. Carrying these documents is necessary for further admission purpose. Following are the documents that are needed to be produced during the admission process:
A duly filled application form

Some academic achievement

Resume

Leadership qualities, extracurricular involvement, and commitment to community service

Writing skills on the essay component
GPA Requirements
Master's program - 3.0 GPA in the qualifying degree
Doctor's program after Master of Science - 3.0 GPA
For Doctor's program after Bachelor of Science - A minimum undergraduate GPA of 3.0
---
For International Students
Regis College International Students are additionally required to meet the following requirements to be eligible for Master's Programs:
Official Test Results of Graduate Record Examination (GRE) or Miller Analogies Test (MAT). The college board code for Regis College is 3723.

Submit Official Test Results of International English Language Testing System (IELTS) or Test of English as a Foreign Language (TOEFL) to prove proficiency in English. The college board code for Regis College is 3723.

Prove of Financial stability for the cost of education.

Official transcripts submitted by International Students are required to be evaluated and translated to the English language if the Original documents are in a foreign language.

The preferred transcripts evaluations are - Center for Documentation P.O. Box 326 Boston, MA and Commission on Graduate of Foreign Nursing School 3600 Market Street Suite 400 Philadelphia, PA.
Annual Cost to Attend
Net Price Cost of attendance minus any grants and scholarships received.
$28,145
Average Annual Cost
$41,015
Books And Supplies
$1,100
Room And Board The charges for an academic year for rooming accommodations and meals for a typical student.
$15,180
Budget For Other Expenses
$2,065
Total One Year Cost
$59,360
Academics
Highest Degree Offered The highest degree offered by the Institution.
Doctor's degree
Student:Faculty Ratio
9:1
Full-Time Retention Rate Percent of the that re-enrolled at the institution as either full- or part-time in the current year.
85%
Part-Time Retention Rate Percent of the that re-enrolled at the institution as either full- or part-time in the current year.
N/A
Academic Calendar
Semester
Research Funding per Student
N/A
Majors
Registered Nursing, Administration,...
349 Graduates
Allied Health Diagnostic, Intervent...
37 Graduates
Public Health
25 Graduates
Business/Commerce, General
20 Graduates
Communication and Media Studies
16 Graduates
Psychology, General
14 Graduates
Biology, General
12 Graduates
Health and Physical Education/Fitne...
11 Graduates
English Language and Literature, Ge...
8 Graduates
Political Science and Government
6 Graduates
Liberal Arts and Sciences, General...
5 Graduates
Health Services/Allied Health/Healt...
4 Graduates
Nutrition Sciences
3 Graduates
Biochemistry, Biophysics and Molecu...
2 Graduates
Teacher Education and Professional...
1 Graduates
Teacher Education and Professional...
1 Graduates
More
Student Body
Undergraduate Students
1,395
Socio-Economic Diversity Percent of full-time, first-time students receiving an income-based Federal Pell Grant intended for low-income students.
30%
Students Gender
LGBTQIA STUDENT RESOURCE GROUPS
Race/Ethnicity
0 American Indian/Alaska native
0 Native Hawaiians/Pacific islander
Economic Diversity
36% percentage of students who recieved an income-based Federal Pell Grant intended for low-income students.
Median Household Income
$71,566 per year
Campus Life
Housing
The students can reside on campus and 87% of Freshman Live On-Campus.
On Campus Housing Available
Yes
Freshmen Required to Live on Campus
No
Freshmen Live on Campus
87%
Undergrads in College Housing
N/A
Campus Food
The institution has several dining and meal plan options available to students and the average meal plan cost is around N/A.
Average Meal Plan Available
N/A
Athletes
Division Sports Nickname
Pride
School Colors
crimson and gold
Varsity Athletics Association
NCAA
Varsity Athletics Conference Primary
Not applicable
Total Male Athletes
110
Total Female Athletes
148
Intramural Sports
7
Sports Club
N/A
Sports Team (Men)
Basketball
Cross Country
Lacrosse
Soccer
Swimming and Diving
Tennis
Track and Field
Volleyball
Sports Team (Women)
Basketball
Cross Country
Field Hockey
Lacrosse
Soccer
Softball
Swimming and Diving
Tennis
Track and Field
Volleyball
Campus Safety
24-Hour Security Patrol
Yes
Campus Emergency Phones
Yes
24-Hour Escort Safety rides
Yes
Mobile Campus Emergency Alert
Yes
After Graduation
Median Earnings 6 Years After Graduation
$35,800/year
Median Earnings 10 Years After Graduation
$47,500/year
Median Total Debt After Graduation The median cumulative federal debt of undergraduate borrowers who graduated.
Typical Monthly Loan Payment The median monthly loan payment for student borrowers who completed, if it were repaid over 10 years at a 4.53% interest rate.
$280 - 280
Financial Aid
Students Receiving Gift Aid Percent of undergraduate students awarded federal gift aid.
Average Aid Per Year
$28,536
Students Receiving Federal Grants
Average Aid Per Year
$5,035
Students Receiving State Aid
Average Aid Per Year
$1,361
Students Receiving Institutional Grants
Average Aid Per Year
$26,090
Average Grant & Scholarship by Family Income
Aid awarded based on the family income.
The students of this college are eligible for applying various institutional scholarships, grants, and federal aids. The financial assistance may be in the form of scholarships, grants, education loans, fellowships, tuition waivers, and others. The reason behind this is to encourage the students to continue with their studies.
Regis College Federal school code of the college is 002206. This will be helpful for the students to apply for various financial aids of the college.
The Federal Aid is available in the form of Pell Grant, Federal Supplemental Educational Opportunity Grant, Federal Loans, and Federal Work-Study. Federal Loans include Federal Direct Student Loan, Parent Loan for Undergraduate Students (PLUS), Alternative Student Loans, and others.

The college accepts State Aid in the form of MASS Grant, Gilbert Grant, Other State Grant/Scholarships

The college itself provides Institutional Aid in the form of various scholarships. Some of these scholarships are Presidential Catholic Scholarships, Boston Latin Academy scholarship, Helena A Callahan Scholarship, Merit Scholarships, The Fung Scholars program, Regis College Puerto Rico Dear Neighbor Scholarship, and many more.

The college also provides veteran benefits in the form of Post 9/11 GI Bill which comes under its various Military Aid available.