Left Handed Scholarships you can apply in 2020
Are you a left handed student and worried about college tuition? If yes, then here are Top 5 scholarship opportunities you can apply in 2020.
Updated by Kritika Pathak on 20th March 2020
Are you one of the people in the 10% of the population in the United States who is left-handed? If yes, then you can be eligible for scholarships available exclusively for you.
Left-handed scholarships are offered to the left-handed students to pursue professional excellence in the areas of their interests. The concept of these scholarships began in the year 1979.
Left-handed students are recognized as 'southpaws' in the United States as they have exceptional capabilities in the field of arts, sports and more. Financial assistance is provided to them to help them pursue professional excellence in the area of their interests.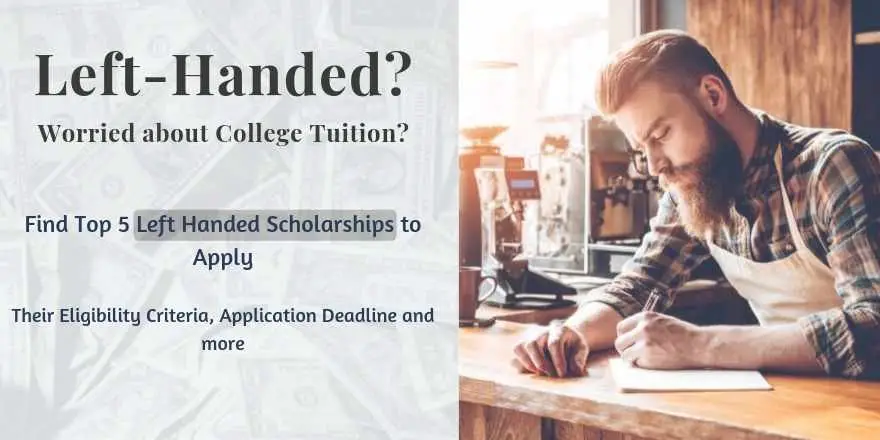 Who are left-handed students?
The brain functions differently for left-handed students than the right-handed ones. Left-handed learners are more creative in arts and music rather than logical or mathematical and analytical thinking like right-handed students.
These scholarships are available for courses and talents dedicated to sports, arts, music, entertainment, athletics and more. About 10% of the U.S. population comprises of left-handed people, hence, there are great scholarships available for them.
Some of the famous left-handed personalities are Angelina Jolie, Lady Gaga, President Obama and Michelangelo. Most students desire to opt for such a form of financial assistance that need not be repaid.
In a wider scope, most of the federal government financial aid opportunities are available for a larger group and applicable for all institutions, unlike others which are reserved for certain particular groups.
You can get a scholarship for being left-handed. You must be wondering how to get one, according to your requirements. It isn't difficult to find one, thanks to several organizations offering these scholarships, on the basis of a student's talents, interests and much more. The amount for the award varies depending on the organization offering the prize.
Left Handed Scholarships to apply in 2020
Following are the top 5 Scholarships for left-handed students in 2020.
1- ESA Foundation Scholarship Program
ESA Foundation Scholarship Program was established in 2007 to help minority students and women pursue higher education, especially leading to careers in Video Game Arts or Computer. The students who are enrolled in a full-time four-year undergraduate college can apply for this program.
Application Deadline - 26 April 2020
Award - 30 scholarships worth $3000 are offered to the students. Out of this, 15 scholarships are offered to college students currently enrolled in college and 15 to high school seniors who will be graduating.
Eligibility Requirements
Must be a minority/women

Enrolled in a Computer/Video Game undergraduate program at an accredited institution

Have a minimum GPA of 2.7 or above

Should be a US Citizen
You can start applying for the scholarship by 1 February 2020.
Contact
ESA Foundation Scholarship Program
601 Massachusetts Avenue, NW, Suite 300
West Washington, DC 20001
Phone Number - 202-223-2400
Email - esafinfo@theesa.com
Official Website - esafoundationscholars.com
2 - MRCA Foundation Left-Handed Scholarship
MRCA Foundation is a non-profit organization determined to provide financial assistance to the MRCA member company's employees or families, pursuing higher education.
Award - The left-handed scholarship amount is determined by the MRCA Foundation Board of Directors. Usually, the scholarship amount offered ranges between $500 to $3,000.
Application Deadline - May 1, 2020
Eligibility Requirements
Proof of being an active member or associated with MRCA Foundation

Completed Application Form

Official high school transcripts

A minimum of a 3.0 GPA

2 Letters of Recommendation submitted by people over 18 years of age and not related to the applicant. The Director of MRCA can provide only 1 letter of recommendation.

A one-page essay (typed) explaining the interest of the applicant in enrolling in the construction industry or any other related field, and any honors or accomplishments in the said subject.
---
Wondering how to write Scholarship Essay? Visit - How to write an Essay for a Scholarship
---
Selection Procedure
The selection is based on the -
Academic performance of the applicant

Letters of recommendation

Financial need

Experience of employment

Desire to pursue higher education
Note - The winner will be notified by the Directors in writing and the scholarship award will be mailed to the school you're enrolled into.
Contact
MRCA Foundation
2077 Embury Park Road, Dayton, Ohio 45414
Phone Number - 800.497.6722
Email - mrca@mrca.org
Official Website - www.mrca.org
Also read: Things To Include in a Letter of Recommendation for a College Scholarship
3 - Boundless Opportunity Scholarship
This scholarship is offered to the non-traditional students in the state of Colorado, Utah, New Mexico and Wyoming who are pursuing their undergraduate program.
Daniels Fund provides grants to schools, then the schools provide those to the need-based students.
Application Deadline - Varies
Award - Varies
Eligibility Requirements
Must be a US resident/citizen and a legal resident of New Mexico, Wyoming, Colorado or Utah

Applicant must demonstrate a financial need.

The scholarships are offered to adults or veterans returning/entering college. It is also offered to GED recipients, Foster Care Youth (former) and Juvenile Justice Youth (former).
Contact
Daniels Fund
101 Monroe Street
Denver, Colorado 80206
Phone Number - 303.393.7220 and 877.791.4726
Email - BOS@DanielsFund.org
Official Website - www.danielsfund.org
4 - Andrew Macrina Scholarship
The American Culinary Federation Education Foundation offers scholarships for left-handed students, for several programs. The applicant must be enrolled in a Culinary Arts or Pastry Arts program at an accredited university/college.
Application Deadline - October 31 and April 30 of each year
Award
$1500 for the Apprenticeship Program

$1500 for Certificate Program

$2500 for Post-Secondary Degree Programs
The members of the association donate funds for the scholarship.
Eligibility Requirements
The student must have a minimum cumulative GPA of 2.75 or higher
Must be enrolled in a Culinary or Pastry Arts Program
Selection Procedure
The selection of the scholarship winner will be based on his/her academic performance, participation in culinary events, volunteering activities and more.
Note - The selected/rejected applicants will be notified via email, 30 days after the scholarship deadline.
Contact
American Culinary Federation
180 Center Place Way
St. Augustine, FL 32095
Phone Number - (904) 824-4468 or (800) 624-9458
Email - scholarships@acfchefs.net
Official Website - www.acfchefs.org
---
Also read: Affordable Online Colleges to ease your college tuition worries.
---
5 - Frederick and Mary F. Beckley Scholarship
Juniata College offers left-handed scholarships to the Southpaws. This scholarship was established by a left-hander Mary Francis Beckley. It is given to juniors, seniors, and sophomores attending Juniata College.
Application Deadline - Varies
Award - $2,000 - $5,000
Eligibility Requirements
Must demonstrate financial need

Applicant should have a good academic record
Selection Procedure
The recipients are chosen on the basis of the top academic record.
Contact
1700 Moore Street
Huntingdon, PA 16652
Phone Number - (814) 641-3132
Email - wallj@juniata.edu
Official Website - www.juniata.edu
Not Enough? Visit our Scholarships Directory for more.