$25,509
Avg.Financial Aid
About Anna Maria College (AMC)
Type Control of Institution - Public/Private
Private
Not-For-Profit
4 Years
Student Population Number of Students attending College
1,461
Website
www.annamaria.edu
Accreditation Accreditation is the process by which the quality of learning at various educational institutions are evaluated. Read More.
CIHE
Religious Affiliation Indicates religious affiliation (denomination) for private not-for-profit institutions that are religiously affiliated.
Roman Catholic
On Campus Housing Does the institution provide on-campus housing?
Yes
Anna Maria College is a private not-for-profit institution and was founded by the Sisters of Saint Anne in 1946, headquartered at the heart of New England, Paxton, Massachusetts. The college lies in the 190-acre campus, minutes away from the vibrant town of Worcester and has a Catholic affiliation.
The mission of the college is to train the students to become individuals who will change their world as moral leaders and community-oriented experts.

The college offers a wide range of Undergraduate and Graduate Degrees both on-campus and online.

College is accreditated by the New England Association of Schools and Colleges.

The small student-faculty ratio of 11:1 enables a highly personalized learning experience and the moderate classroom and campus size encourage optimal student involvement.

College's acceptance rate is 83%.

The total student population is 1,386 which consists of 833 full-timers and 553 part-timers.
---
Anna Maria College Online
The college is devoted to providing online programs in order to make education accessible to everyone. It offers a variety of degrees completely online. In addition to this, the college provides programs which are offered on both the online and on-campus platforms, known as hybrid programs.
Programs are offered across 3 majors which include Nursing, Public Administration, and Safety.
The online learners get the same level of personalized attention and feedback from the faculty, as those on-campus students enrolled in traditional programs.
For more info on Tuition and Fees
---
Reviews
The college has a community where people are kind and service-oriented.

The quality of the faculties recruited to the college is really great. The faculties help the students to get into internships so that they will be exposed to the work environment.

The students who have opted for online programs get the same interaction given to the on-campus students.

The effort of the student is always monitored and rewarded by the faculty.
Rankings
The college is ranked between 142 to 187 in 'Regional Universities- North', according to the U.S.News report.
Admissions
Application Deadline Deadline for application submissions. Please contact the school for more details.
N/A
Acceptance Rate Percentage of applicants who are accepted in an Institution.
74%
SAT/ACT
Neither required nor recommended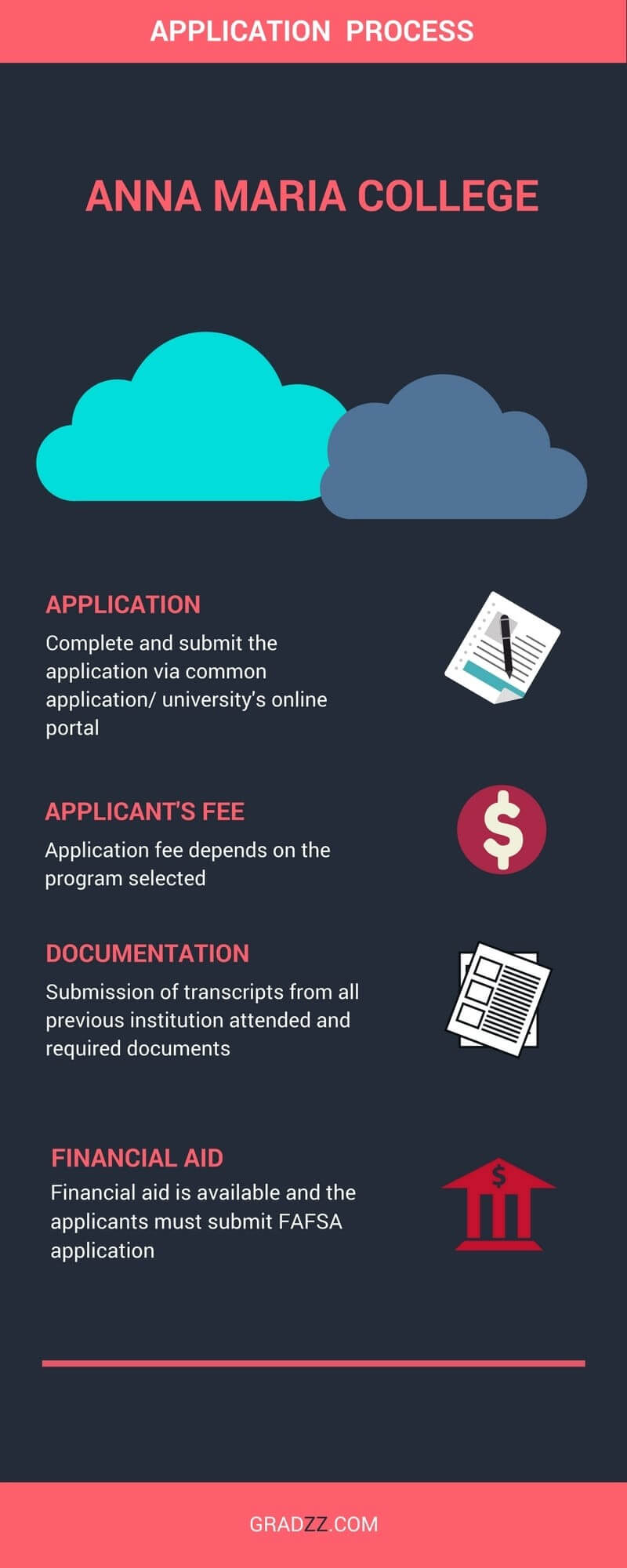 Admission Requirements for Anna Maria College Online Programs
Candidates are advised to submit the admission application online and keep a track of their respective online program's application status in their application checklist.
B.S. in Fire Science
Candidates must complete at least 60 credit hours or graduate with an associate's degree
Maintaining an aggregate of 2.0 GPA (on a scale of 4.0).
Download the B.S. in Fire Science application checklist to ensure all the transcripts from the previous institution and provide all the necessary documents for application.
RN-BSN
A current RN license holder in the nursing department.
Candidates must have Associate Degree in Nursing (ADN).
Cumulative GPA of 2.0 on a 4.0 scale.
Candidates are suggested to download the RN-BSN application checklist and it is mandatory to carry all the necessary transcripts and documents.
For the undergraduate programs, a TOEFL score is mandatory, with a minimum score of 550 in PBT; 213 in CBT; or 79 in IBT along with the necessary documentation.
Master of Public Administration (MPA Certificate)
Hold a bachelor's degree (in any academic discipline) from a regionally accredited college or university
Aggregate GPA of 2.7 on a scale of 4.0
An updated resume mentioning all the relevant skills and experience.
References (any two) from previous institution or workplace stating the appropriate experience.
Personal statement
Candidates are advised to keep a track on the MPA application checklist to assure the preparation of all documents.
For the graduate programs, international students must also submit TOEFL scores, with a minimum score of 565 in PBT, 225 in CBT, or 85 in IBT along with the other required documents.
Note: Candidates must email all the required transcripts and documents for verification process at Anna Maria College Online Processing Center.
Annual Cost to Attend
Net Price Cost of attendance minus any grants and scholarships received.
$25,664
Average Annual Cost
$35,480
Books And Supplies
$1,000
Room And Board The charges for an academic year for rooming accommodations and meals for a typical student.
$14,230
Budget For Other Expenses
$1,000
Total One Year Cost
$54,090
Academics
Highest Degree Offered The highest degree offered by the Institution.
Master's degree
Student:Faculty Ratio
12:1
Full-Time Retention Rate Percent of the that re-enrolled at the institution as either full- or part-time in the current year.
63%
Part-Time Retention Rate Percent of the that re-enrolled at the institution as either full- or part-time in the current year.
N/A
Academic Calendar
Semester
Research Funding per Student
N/A
Majors
Registered Nursing, Administration,...
106 Graduates
Fire Protection
59 Graduates
Criminal Justice and Corrections
36 Graduates
Business Administration, Management...
17 Graduates
Health Services/Allied Health/Healt...
15 Graduates
Human Services, General
9 Graduates
Rehabilitation and Therapeutic Prof...
8 Graduates
Psychology, General
5 Graduates
Teacher Education and Professional...
4 Graduates
Allied Health and Medical Assisting...
3 Graduates
Community Organization and Advocacy
3 Graduates
Liberal Arts and Sciences, General...
3 Graduates
Political Science and Government
3 Graduates
Teacher Education and Professional...
2 Graduates
Allied Health Diagnostic, Intervent...
1 Graduates
Design and Applied Arts
1 Graduates
English Language and Literature, Ge...
1 Graduates
Natural Resources Conservation and...
1 Graduates
Non-Professional General Legal Stud...
1 Graduates
More
Student Body
Undergraduate Students
1,134
Socio-Economic Diversity Percent of full-time, first-time students receiving an income-based Federal Pell Grant intended for low-income students.
35%
Students Gender
LGBTQIA STUDENT RESOURCE GROUPS
Race/Ethnicity
1% American Indian/Alaska native
0 Native Hawaiians/Pacific islander
Economic Diversity
36% percentage of students who recieved an income-based Federal Pell Grant intended for low-income students.
Median Household Income
$69,543 per year
Campus Life
Housing
The students can reside on campus and 79% of Freshman Live On-Campus.
On Campus Housing Available
Yes
Freshmen Required to Live on Campus
No
Freshmen Live on Campus
79%
Undergrads in College Housing
N/A
Campus Food
The institution has several dining and meal plan options available to students and the average meal plan cost is around N/A.
Average Meal Plan Available
N/A
Athletes
Division Sports Nickname
AMCAT
School Colors
cardinal and white
Varsity Athletics Association
NCAA
Varsity Athletics Conference Primary
Eastern Collegiate Football Conference
Total Male Athletes
157
Total Female Athletes
84
Intramural Sports
5
Sports Club
1
Sports Team (Men)
Baseball
Basketball
Cross Country
Equestrian
Football
Ice Hockey
Lacrosse
Rugby
Soccer
Sports Team (Women)
Basketball
Cross Country
Equestrian
Field Hockey
Ice Hockey
Lacrosse
Rugby
Soccer
Softball
Volleyball
Campus Safety
24-Hour Security Patrol
Yes
Campus Emergency Phones
Yes
24-Hour Escort Safety rides
Yes
Mobile Campus Emergency Alert
Yes
After Graduation
Median Earnings 6 Years After Graduation
$33,400/year
Median Earnings 10 Years After Graduation
$44,800/year
Median Total Debt After Graduation The median cumulative federal debt of undergraduate borrowers who graduated.
Typical Monthly Loan Payment The median monthly loan payment for student borrowers who completed, if it were repaid over 10 years at a 4.53% interest rate.
$162 - 270
Financial Aid
Students Receiving Gift Aid Percent of undergraduate students awarded federal gift aid.
Average Aid Per Year
$25,509
Students Receiving Federal Grants
Average Aid Per Year
$4,634
Students Receiving State Aid
Average Aid Per Year
$1,797
Students Receiving Institutional Grants
Average Aid Per Year
$22,587
Average Grant & Scholarship by Family Income
Aid awarded based on the family income.
Total Needs based Scholarships/Grants
$4,968,571
Total Non-Needs based Scholarships/Grants
$13,224,647
About 98% of the full-time undergraduate students at the college receive some kind of financial aid. The scholarships at the college range from $17,500 to $22,500. Resident students are allowed house grants up to $2,500 per year.
The financial aid requirement of the student is determined after the submission of the FAFSA form. Anna Maria College federal school code is 002117.
Federal Aid offered includes Pell Grant, Direct Unsubsidized Loans, Federal Work-Study, Direct Subsidized Loans, and others.

Institutional Aid offered includes Anna Maria College Grant, Army ROTC Scholarships, Worcester Community Foundation Scholarships, Anna Maria College Heart Advantage Scholarship and more.

The State Aid includes Massachusetts State Grant, Gilbert Grant, and Massachusetts Part-Time Grant.

The Military Aid includes the Yellow Ribbon Program and Post 9/11 GI Bill.