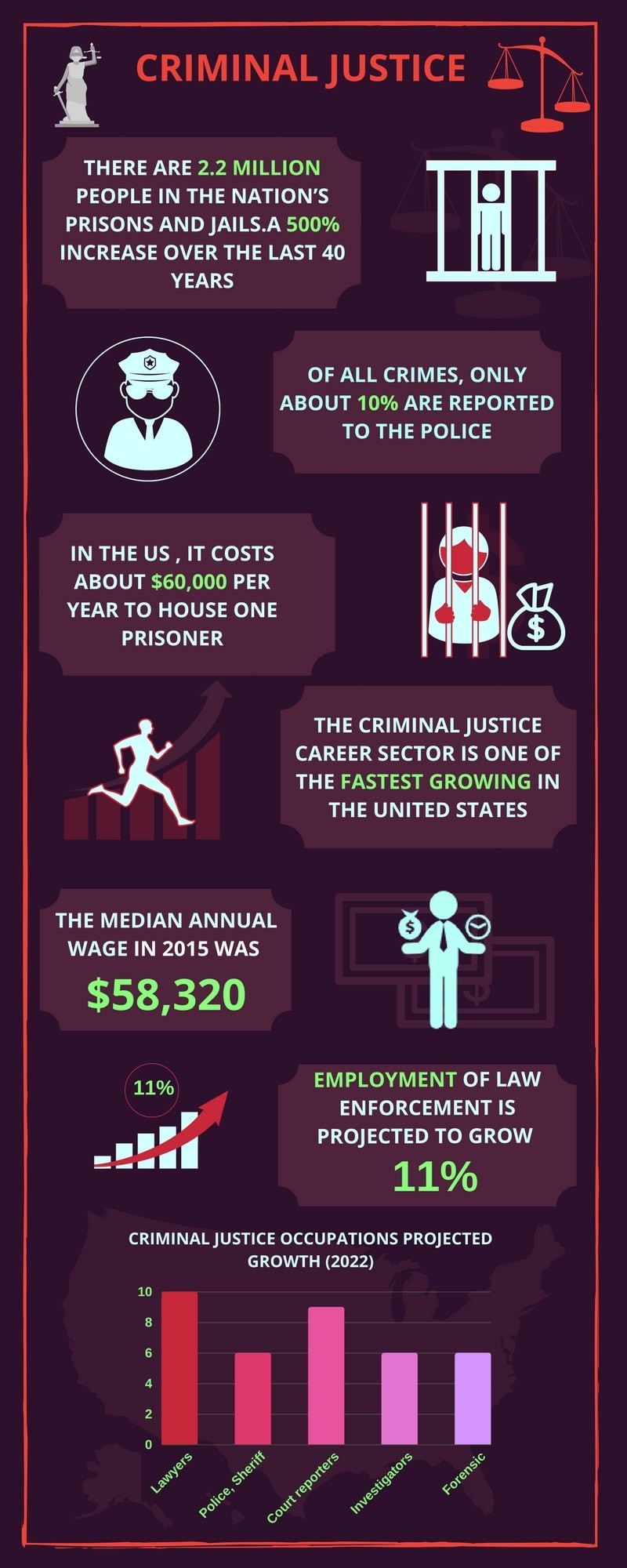 ---
What is Criminal Justice?
The present stage of criminal justice has been formed from many evolutionary stages. Americans have mechanisms that implement rules and punish offenders. The rules and norms have been formed by the Americans by considering the religion and sin as the means of shaping society. A criminal justice system is an excelling group, it's unique and different. There are many sub-fields in criminal justice to study and each leads to a different career option.
The criminal justice system is conceded in three parts, they are:
Law Enforcement – it is considered as the first step of criminal justice. Whenever a crime scene occurs, the police are directly in contact with this situation. The police have to complete some tasks like investigating the crime place, people, collecting evidence, and arresting the offenders.

The Courts – this can be taken as the second part of criminal justice, here the guilt or the innocence of the suspect is assured at the trial periods. The primary purpose of this is to ensure a fair trial for the suspect.

Corrections– if the accused in the court of law is convicted and charged jail merit time, they will be sent to the corrections system for punishment. The right to be free of cruel and unusual punishment is the primary constraint on abuses in the correctional system.
---
Online Education in Criminal Justice
In today's world, many students choose online criminal justice programs to earn degrees. The web-based format is typically more flexible than classroom-based education, enabling students to hold down a job and financially support themselves while they pursue a degree.
The best online bachelor's in criminal justice programs have rigorous coursework. Online programs allow students to gain supervised training at police stations, law offices and other workplaces where criminal justice majors tend to find employment
---
Why study Criminal Justice?
Steven Brancazio, the faculty chair for Capella University's Criminal Justice Undergraduate Studies, and Dr. Micheal Kemp, faculty chair in the School of Public Service Leadership, there are huge and important reasons to obtain a degree.
A Changing field: 'Today, officers are given more authority and are more involved in the community' says Brancazio. They need better critical thinking skills. More decision-making responsibility at lower levels means a law enforcement officer needs to know what's involved.

Increased safety: teaches ethics, conflict resolution, and critical thinking. That's what a degree brings. When you come in with more knowledge up front, you're less likely to make mistakes.

Successful public interaction: Crime prevention and community relations are a major part of a police officer's portfolio.

Good career options: Many entry-level criminal justice positions don't require a degree, a candidate who has an edge over the competition, and is likely to earn more as well—up to 22 %.
---
What is a Criminal Justice degree?
Criminal justice sounds fascinating, doesn't it? Who doesn't want to fight against the bad guys and emerge as a superhero? In addition to all the detective and heroic stuff, there are many other careers as well which you can take up once you have obtained a degree in criminal justice.
Criminal Justice involves learning about the functioning of the courts, law enforcement agencies, and more. It covers everything from research to statistics in order to harness skills which will be required to be successful in the field.
What can you do with a Criminal Justice Degree?
There are mainly two reasons why Criminal Justice Careers are so popular. The primary reason is that it serves as a launching pad for a variety of job options. Secondly, more and more law enforcement agencies are looking for students having a degree in criminal justice as candidates for various positions.
Depending on what level of education you have obtained in this field, there are many possible career options. There are four types of Criminal Justice degree levels and each of them opens the door to a number of varying opportunities.
---
Specializations in Criminal Justice
Law Enforcement – Under this domain, you get to work as crime patrol officers, investigators, security officers.

Juvenile justice - Involved in court reporting, legal assistance, legal administration etc. After attending the law school they will become an attorney.

Social services - Graduates function as victim advocates, as well as serve in organizations that provide assistance to victims and facilitate programs that seek to prevent and reduce crime

Corrections - You can be a juvenile or an adult prohibition officer, correctional officer, correctional caseworkers.

Cyber-crime - These graduates can become a computer cyber-crime investigator.
---
Where can you work?
Law enforcement - It is an organization which behaves in a way to enforce law and norms.

Criminology - It is a study of crimes and criminology.

Social service - Provide social service as an attorney or lawyer with the help of many organizations.

Rehabilitation - You can work in rehabilitation centers.

Corrections - Corrections in the law and criminal justice.

Paralegal - Law office, work in government law agencies.

Research methods - You can do research in various high profiled cases and different law and norms.

Psychology - Work in the psychology-related domain.

Information technology - Work as a legal consultant in IT companies.
---
Criminal Justice Degree Careers
Once you have acquired a degree in criminal justice, there are a number of career options that you can opt for.
Serving your fellow citizens does give you benefits in return. These options give you a sense of job security and after all, justice always needs to be served.
Here is a list of top 10 exciting jobs that you can take up to build a successful career in this field.
Probation Officer - As a probation officer you are supposed to monitor parolees and make sure that they follow the laws and are not creating disturbance in the society. They are assigned to help parolees improve their life by helping them to lead a law-abiding life in the society.

Forensic Technician - If you possess acumen for forensic science then this job will excite you. A profession in real life is similar to what they show on Crime Thrillers, but a lot of perfection and accuracy is required as your actions determine a case's outcome.

Crime Scene Investigator - As the name sounds, the job is to understand the scenario and the place of crime by using the evidence present and then analyze it to bring some important facts into the picture which can help to solve the crime.

Immigration and Customs Enforcement Agent - Immigration Agents are responsible to prevent any illegal entry of either Goods or People to the country. They keep checking for all international personnel coming to the nation make sure they have a permit. They stay updated on the latest policies and take necessary actions in case of illegal immigration.

Drug Enforcement agent - As a DEA agent, you have to keep checking for any drug abuse going in your vicinity or in your knowledge. You have to keep track of drug traffickers and their working groups, and arrest anyone found in possession of illegal drugs, working undercover or as field agents.

US Marshal - They keep the prisoners safe and help in transporting them. They help to administer the Department of justice, keep witness and prosecutors of potentially dangerous cases safe and provide the judges additional safety for the duration of court cases.

Private Detective - As a private detective, you will be working with the police departments and other government bodies to help them uncover and track certain accused personnel and potential criminals and keep them updated about any new evidence on the case.

State Trooper - They work on highways and freeways to make sure that the federal and state laws are followed by the citizens on the road. From slightest to major, every traffic law is important and they make sure proper enforcement is done.

Correctional Officer - They work in prisons to administer the convicted prisoners to ensure that these people are not creating a nuisance or provoking fights inside the prison. They work on different levels like local, Federal and their jobs require a lot of discipline and persistence as they are dealing with unsocial elements of the state.

Security Guard - Their job is to patrol the assigned compound and report to higher authority in case of any suspicious events going around. They stay on toes as any minor ignorance can cause major problems for the organization.
---
Criminal Justice Degree Salaries
It's time for your heroism to pay off! The average wage earned is $61,231 growing at a rate of 3.18 %. Currently, there is one million workforce in this sector with a growth rate of 5.42%.
As per the data from the US Bureau of Labor Statistics, the following table lists some of the jobs and average salaries associated with them.
Criminal Justice Jobs and Salaries
Job Position
Average Salary
Forensic Psychologist
$72,580
FBI Agent
$63,323
Crime Scene Investigator
$56,320
Emergency Management Coordinator
$53,311
Corrections Manager
$42,439
---
Conclusion
By now I am sure you would have gained some confidence that criminal justice can be an option for your career. There are lots and lots of domains that you can choose, but don't just follow someone. If you really like this and poses the qualities to study criminal justice go for it.