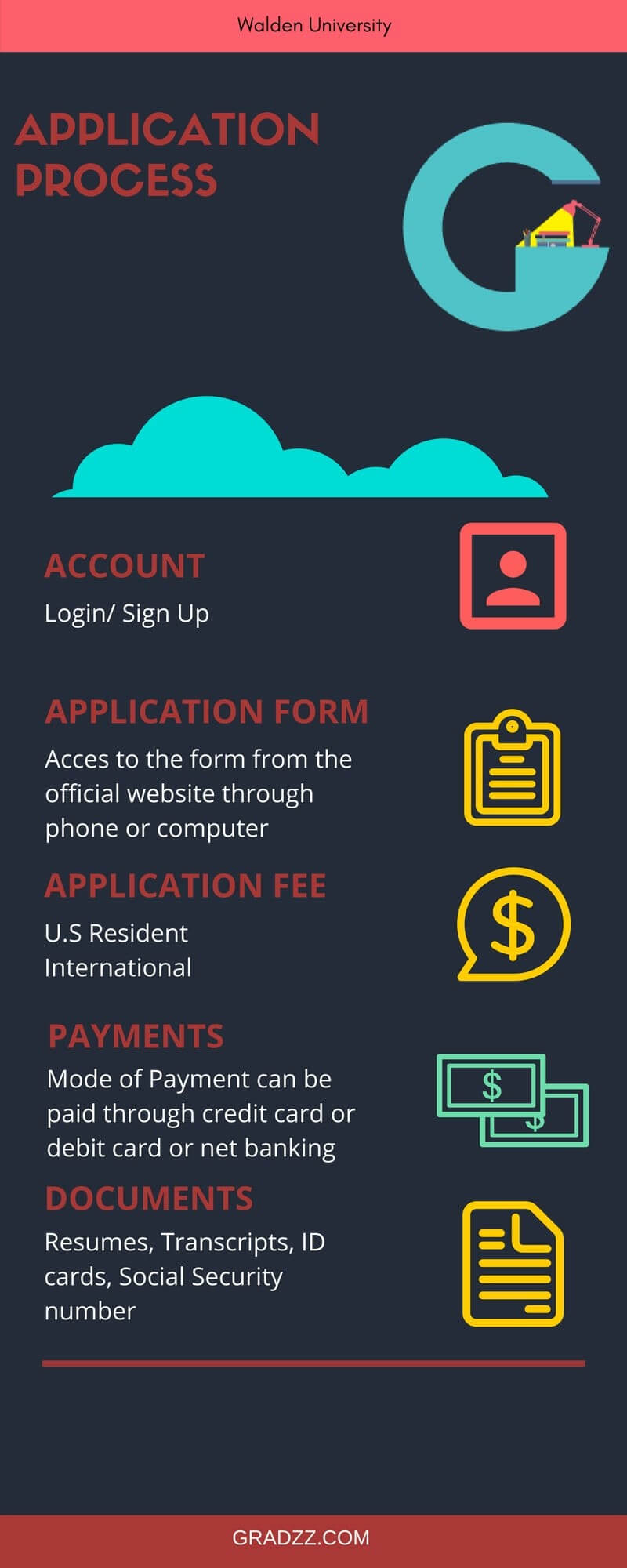 Walden University provides an opportunity for students all over the world to join its diverse and distinctive community made up of people from different social, cultural, educational and economic background. Walden University recognizes the need of education and understands the significance to foster academic excellence. To get admission in Walden University the applicant needs to be prepared with certain items or documents. Throughout the admission process, the applicants will be guided by the admission advisors who will guide the candidates through the whole process of choosing the right program to funding and scholarships for the education. Walden University has multiple programs which start dates throughout the year. It made it flexible so that the students can enroll and start the program according to their convenience and time.
Applicants need to before applying for admission need to prepare certain items such as:
Official transcripts

from their previous schooling

An unofficial transcript can be used until the pre-admission evaluation is completed. Later the applicant needs to submit the official transcript once gets admitted or get enrolled in a degree program

Resume

displaying work history of the applicant

Educational and employment history
---
Admission Requirements
Bachelor's: New and Transfer Students
Walden University weights and values students past experience in terms of previous tuition and work experience. They believe in to put the knowledge and experience gained to work for students in earning a degree at Walden. Selection of students for enrollment is done based on an inclusive, holistic and meticulous review of the applications. The University may consider exceptions based on their discretion which depends on the student's background and work history.
Following are the conditions students need to fulfill to get enrolled into Bachelors
Official Transcripts
Candidates with lesser than 12 college credits should submit an official transcript of their high school diploma which should be accredited by a state or national accrediting organization or by or

General Educational Development (GED)

Candidates with more than 12 college credits should submit an official transcript from an educational institution that is accredited by a state or national accrediting organization or accredited by

Council for Higher Education Accreditation (CHEA)

or by the U.S. Department of Education
Students need to submit a transcript from all previous institutions at the time of enrollment or admission for review. If official transcripts are unavailable then students can submit an unofficial transcript for review at admission process. But it is vital for students to submit an official transcript to get enrolled into a degree program and for consideration of the transfer of credits. Students need to keep in mind that Grade Point Average (GPA) requirements for transfer of credit are not the same from admission GPA requirements.
In addition to meeting the above condition or criteria students need to meet at least one condition
Students should be 24 years of age or older

Students should be 21–23 years of age and should have at least 12 transferable quarter credit hours

Students should be less than 21 years of age with at least 90 quarter credit hours

Should have been active military or a veteran and should provide documentation of service
Students should complete application form

Students should pay application fee

Students should have access to a computer and the Internet

Students applying for Bachelor of Science in Nursing (BSN) program, kindly refer to the School of Nursing category in the catalog for admission requirements
---
Certificate Program Requirements
Students should have a

bachelor's degree

or equivalent education from a recognized U.S. school accredited by a regional or state or national accrediting organization. The accrediting organization should be recognized by the

Council for Higher Education Accreditation (CHEA)

or by the U.S. Department of Education. The bachelor degree should be in a discipline or field related to the program or specialization in which students want to get enrolled

Students should require at least 1-year of teaching experience or a teaching certificate to get enrolled. Candidates with less than 1-year teaching experience can enroll if they are currently teaching as they are eligible for conditional admission

On the discretion of associate dean, a telephonic interview will be conducted with students on the reference contact listed

Students with an undergraduate Grade Point Average (GPA) of 2.5 or more are eligible for full admission. Students a Grade Point Average (GPA) below 2.5 are eligible to apply for conditional admission

Students should complete application form

Students should pay application fee

Students should have access to a computer and the Internet

Students should provide names and contact information of two persons in the field of professional or academic who are qualified to comment adeptly on the student's skills and qualifications for study in the desired field

Students should provide their goal statement

Students should submit an official transcript of bachelor's degree along with any additional completed coursework which too is considered for transfer of credit
---
Post-Baccalaureate Certificate Requirements
Students should have a bachelor's degree or equivalent education from a recognized U.S. school accredited by a regional or state or national accrediting organization. The accrediting organization should be recognized by the Council for Higher Education Accreditation (CHEA) or by the U.S. Department of Education

Students should have minimum Grade Point Average (GPA) of 2.5 or more in bachelor's degree

Students should complete application form

Students should pay application fee

Students should have access to a computer and the Internet

Students should provide names and contact information of two persons in the field of professional or academic who are qualified to comment adeptly on the student's skills and qualifications for study in the desired field.

Students should provide their goal statement

Students should submit an official transcript of bachelor's degree along with any additional completed coursework which is to be considered for transfer of credit
---
Master's Program Requirements
Students should submit an official transcript of a bachelor's degree or master's degree with a minimum Grade Point Average (GPA) of 3.0 or more from a recognized U.S. school accredited by a regional or state or national accrediting organization. The accrediting organization should be recognized by the Council for Higher Education Accreditation (CHEA) or by the U.S. Department of Education.

Students should have a minimum Grade Point Average (GPA) of 2.5 on a scale of 4.0 in bachelor's degree or a 3.0 on a scale of 4.0 in master's degree. Students who want to get enrolled in specific program, these requirements may apply

Access to a computer and the Internet

Students should complete application form

Students should pay application fee

Students should have access to a computer and the Internet

Students should provide names and contact information of two persons in the field of professional or academic who are qualified to comment adeptly on the student's skills and qualifications for study in the desired field.

Students should submit an official transcript of bachelor's degree along with any additional completed coursework which is to be considered for transfer of credit
---
Doctoral Program Requirements
Students should submit an official transcript of a master's degree from a recognized U.S. school which is accredited by a regional or state or professional, or national accrediting organization. The accrediting organization should be recognized by the Council for Higher Education Accreditation (CHEA) or the U.S. Department of Education.

In Post-Baccalaureate degree, students should have minimum Grade Point Average (GPA) of 3.0 on a scale of 4.0

To get enrolled in preferred program students should have 3 years of academic or professional experience related to the program.

Students should have completed application form

Application fee should be paid for registration

Students should provide names and contact information of two persons in the field of professional or academic who are qualified to comment adeptly on the student's skills and qualifications for study in the desired field. The admissions office reserves the right to request for these details from students.

Students are expected to submit official transcript of highest degree completed to date

Students should have access to a computer and the Internet