Animal science is an up-and-coming specialism that's critical to making sure the world keeps on spinning. 
Animal science combines a range of skill sets, including agriculture, livestock production, bioethics, sustainable food protection, animal welfare, wildlife conservation, animal nutrition, animal behavior, and everything in between.
Taking on a career in animal science enables professionals to truly make a difference. If you're keen to pursue a career working with animals, there is a wide range of animal science degrees available that will empower you with the skills and knowledge you'll need to succeed.
Studying animal science will help you better understand how animals function, how we interact with animals, and how we rely on animals. 
If you're currently operating in a different professional space, bound to a certain place for personal reasons, or unable to travel to obtain a degree in animal science, you can obtain one or more animal degrees online.
This guide explains what animal science is, the benefits of studying animal science online, and the different levels of animal science degrees available.
What is animal science?
Animal science is all about the science behind animals. It largely focuses on producing domestic livestock species, but it also deals with things like animal behavior, growth, and management.
That's one of its main forms of study and a degree type you're going to encounter at a lot of American universities. But the truth is that the world of animal science goes way beyond livestock. 
Animal science includes the development and sustainability of foods of animal origin, like dairy — but also the nutrition, care, and welfare of pets, companion animals, and even wildlife.
Generally speaking, if you're studying animal science, you can expect your education to teach you about:
Animal health and nutrition
Food technology and production
Veterinary medicine and drug formation
Ethical measures and welfare in animal science
Specializations offered in an animal science degree program include biodiversity, metabolism, and nutrition, animal ecology, veterinary technology, and many others.
There is a wide range of professions you can choose from if you decide to pursue a degree in animal science. 
Common career paths that graduates of online programs go on to enjoy include becoming a veterinarian or vet tech, rancher, agricultural manager, farmer, animal husbandry technician, supervisor of fishing, or a forestry worker. 
Plus, in most cases, animal science professionals are relatively well-paid for their specialist knowledge.
The average wage that the professionals of animal science get annually is around $74,540. 
The field of animal science has a huge scope because of the increasing demands and awareness about animal health. If you're interested in animal welfare research and food production, this area of study is perfect for you. 
There are various animal science degrees that you can earn with different specializations — and an increasingly large proportion of those animal science degrees can now be earned online.
Why study animal science online?
If you have existing personal or work obligations — or you simply learn better at your own pace — distance learning can be a brilliant way to study animal science and learn more about animal care.
Distance learning enables you to study most or all of your animal science program online without having to travel to campus and attend classes in person. The "distance" element of distance learning can include both class resources as well as the way students interact with their peers.
By pursuing an animal sciences degree online, you can generally expect to communicate with other students and your teachers or professors using one or more digital learning platforms. 
Many online courses rely on email, videoconferencing, live chat, digital forums, and more to make sure everybody is always on the same page.
Together, all of these methods of communication help colleges create a virtual classroom that aims to offer students the same levels of support and access to resources that they'd get on-campus.
In terms of online degree tuition fees, costs vary pretty dramatically from course to course. In some cases, the tuition for an online animal degree can be similar to the cost of an on-campus degree. 
That being said, distance learners are guaranteed to save money in terms of transportation, accommodation, and other elements of campus life that aren't applicable when you're earning a degree from home.
What are the different types of animal science degrees?
At the end of the day, "animal science" is a pretty broad umbrella term that covers a huge range of specializations. You could get a degree in anything from aquatic sustainability or ecology to livestock nutrition.
That being said, no matter what specialization you choose, the vast majority of animal science degrees you could pursue will end up being one of four types:
Associate's degree
Bachelor's degree
Master's degree
Doctoral degree
To help you understand the differences between each animal degree type, we'll quickly break down the characteristics of each award.
Associate degree in animal science
One of the most common animal degrees online is an associate degree.
An associate degree in animal science can be completed in two years. It introduces students to animal anatomy and physiology, along with concepts such as animal husbandry, dairy food production, and many others. 
You can enroll in the degree after graduating from high school.
One of the most popular career paths that graduates of an associate degree program pursue is becoming a vet technician (or "vet tech").
As part of earning your associate degree online, you normally develop knowledge about many different aspects of animal healthcare. 
Common elements include learning how to perform tests and take tissue samples of animals for lab analysis and learning how to diagnose and treat animals that are sick or injured.
To earn an online associate degree, you'll generally need to complete a number of general education requirements, like math, English, or biology. 
Some schools also require distance learners to meet clinical requirements by working or volunteering at a veterinary clinic, animal hospital, or other relevant institutions. You may have to meet this requirement before you're accepted into the program, or it could be included as part of your course.
Online associate degree courses in animal science will also require students to spend a certain number of hours talking to or observing current industry professionals to learn about particular elements of veterinary practices or procedures.
Bachelor's degree in animal science
A bachelor's degree in animal science is an undergraduate degree that's typically completed in four years. In this program, you'll typically learn about food production, animal welfare, animal studies, and administration, as well as a variety of other topics. 
When you choose to pursue a bachelor's degree online, you're able to focus your efforts on developing a specialization in animal sciences in a more regimented way. 
Many online bachelor's programs will require students to complete multiple levels of biology, chemistry, environmental studies, or even physics.
These subjects may be included within the course curriculum or an eligibility requirement to gain acceptance into the program.
Once you've kickstarted your online studies, your bachelor's degree programs in animal science will usually cover specializations like agricultural and livestock management, marine biology, or animal nutrition through hands-on work that requires on-site work with animals. 
When completing a distance learning degree, much of this work can be done online — but you may still need to fulfill practical requirements or placements as part of your degree.
The skills you can attain as part of a bachelor's degree program will help you to achieve higher positions within various animal professions after graduation. These skills will also prepare you to take on even more advanced educational opportunities if you wish to pursue them.
Master's degree in animal science
A Master's degree in animal science offers various specializations and is a graduate-level degree. The duration of the course is for two years. It focuses on the sustainable development of animals, research, and large issues surrounding animal health.
When you pursue an online master's degree in animal science, you'll normally have a more specific set of specializations within the realm of animal sciences to choose from. 
Common online master's programs include food production, animal husbandry, zoology, service animal training, animal psychology, morphology, wildlife biology, and more. 
Depending on the program, you'll often concentrate on specific animals like horses, cats, or birds of prey.
When you graduate with an online master's degree in animal science, you can choose from a number of advanced career paths. 
Research institutions, private companies, corporations, advocacy groups, charities, zoos, and farms all require the sort of specialist knowledge that you can gain from earning a master's degree. 
Popular employment routes include becoming an animal trainer, zookeeper, embryo transfer technician, physician, stable manager, vet, and everything in between.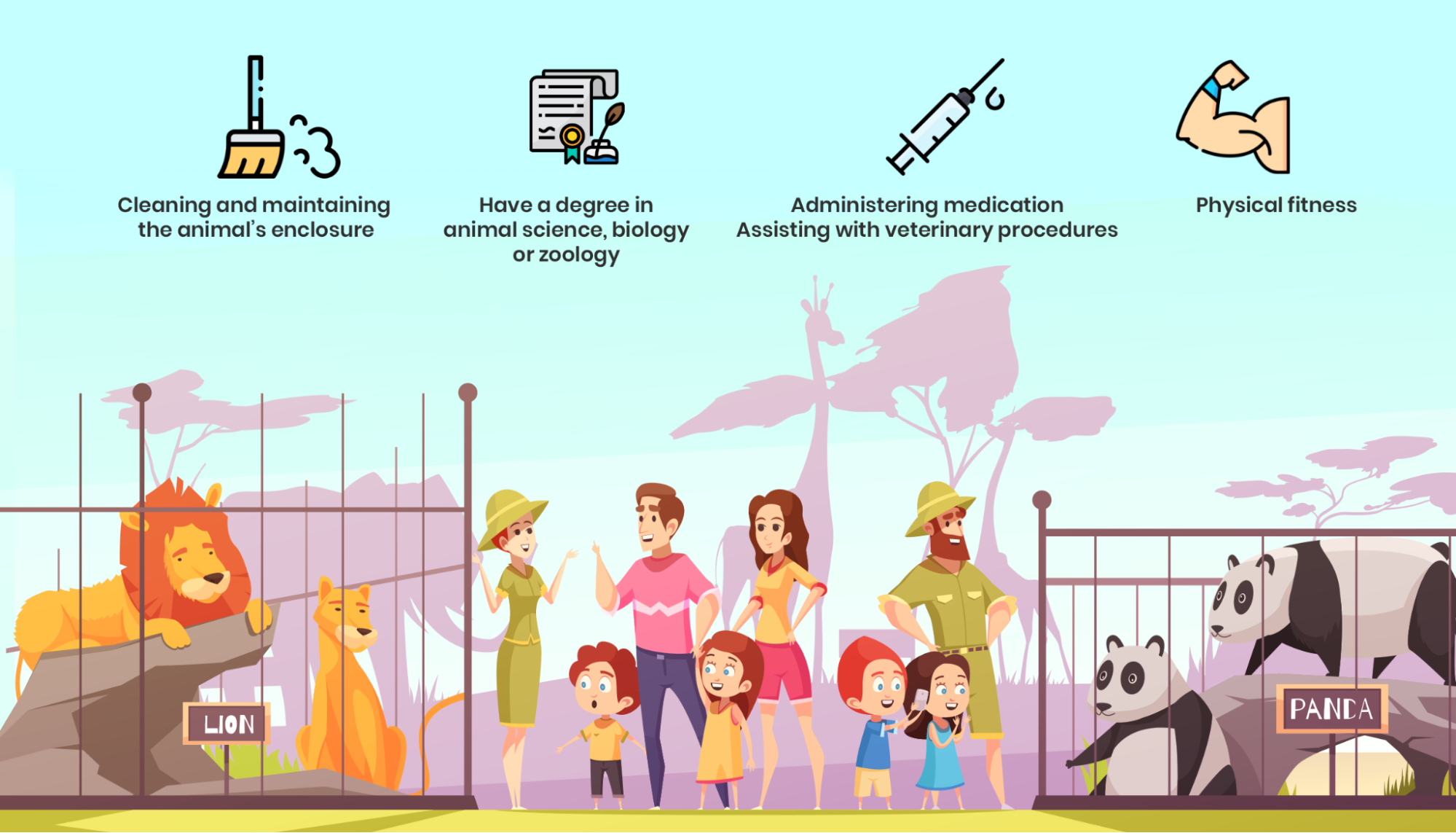 Graduating with a master's degree can also prepare you for an even more advanced degree type: a doctoral degree in animal science.
Doctoral degree in animal science
A doctoral degree in animal science is the highest level of education in the stream. It focuses on research and fieldwork, and the duration for degree completion varies. You'd get to choose specializations, and the focus is laid upon interdisciplinary subjects as well.
To gain acceptance onto a doctoral degree program, you'll typically be required to have both a bachelor's degree and a master's degree in a related field of animal science.
Online Ph.D. programs in animal science allow you to develop the skills you need to become a genuine expert in your chosen field. 
Degree courses enable you to select a niche specialization like equine management or animal nutrition — and then push the envelope of existing industry practices by developing your own theories, research, and interests.
As part of your online Ph.D. studies, you'll need to complete a doctoral dissertation. 
This dissertation will center on your own original research in your chosen field of animal science — and you'll generally need to present and defend this research in front of a group of academics or industry professionals.
Conclusion
No matter the path you choose, animal science is one of the most critical specializations around. 
After all, it's animal scientists we rely on to take care of wildlife conservation and animal welfare, make sure food production is sustainable, maintain bioethics, and everything in between.
But trying to attain your animal science degree by pursuing a traditional animal science program can be incredibly tricky if you have existing work, personal, or even geographic obligations.
By choosing to study animal science online, you'll benefit from added flexibility, efficiency, and affordability.
Just remember: no two online animal science degrees are totally alike. So, if you need help comparing degree programs, we're here to help. Learn more about online colleges with The College Monk.